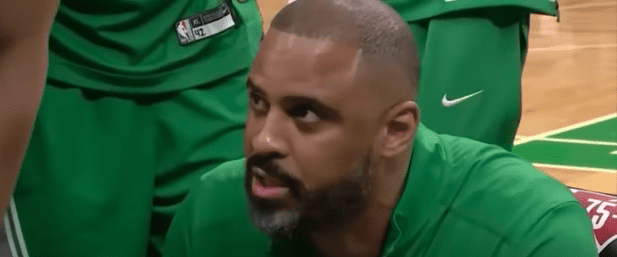 Ime Udoka, the former boyfriend of actress Nia Long and as well as the ex-coach of the Boston Celtics, has finally been released from NBA purgatory.
Udoka has been announced as the new head coach of the Houston Rockets, CBS Sports reports. Udoka's hiring comes about a year after the overblown scandal of having an intimate relationship with a subordinate married woman  employee, which violated company policy.
For his comeback and perhaps further punishment for his transgressions, Udoka has been saddled with the worst job in the league to try to blossom again as the Houston Rockets have been arguably the most hapless team the past three years. They went 58-177 over that span.
ESPN Sources: Ime Udoka has agreed to a deal to become the next Houston Rockets coach. pic.twitter.com/xhcDRDfnNJ

— Adrian Wojnarowski (@wojespn) April 24, 2023
The Celtics fired Udoka immediately following an external investigation that revealed that he also uttered inappropriate things to the unidentified woman.
The heartbreak of the situation was exacerbated because Udoka had taken the Celtics to the NBA Finals in his first year, and was just two victories away from taking home the Larry O'Brien trophy.
According to ESPN, the Rockets did their due diligence and "probed the circumstances around" and were satisfied that the scandal is in Udoka's rearview mirror. 
Fans reacted strongly to the news, including those who believe that Udoka was trounced by the mainstream media all out of proportion to the victimless crime.
I'll never forget Matt Barnes acted like Ime Udoka did a double murder

— Ahmed/The Ears/IG: BigBizTheGod 🇸🇴 (@big_business_) April 24, 2023
James Harden and Ime Udoka at the strip clubs in Houston is gonna feed families! https://t.co/JcleKpe1Qc pic.twitter.com/UBkXrPBgfz

— V̷a̷t̷o̷r̷ (@VatorSports) April 24, 2023
Ime Udoka went from Jayson Tatum & Jaylen Brown to Jalen Green & Kevin Porter Jr pic.twitter.com/B32aA5u12P

— Mike (@MikeAdxx) April 24, 2023
James Harden and Ime Udoka in the Houston strip club next year pic.twitter.com/PWb47cFslz

— Barstool Sports (@barstoolsports) April 24, 2023