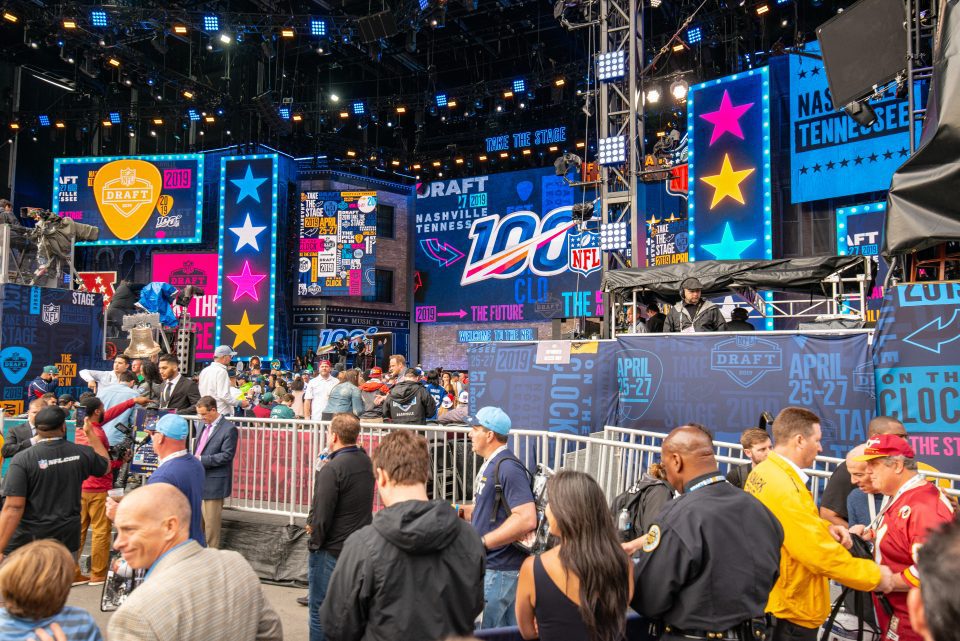 The 2023 NFL Draft is underway in Kansas City, Missouri. The first day included much-anticipated moves like Alabama quarterback Bryce Young going to the Carolina Panthers and unexpected falls like Kentucky quarterback Will Levis falling to Day 2 of the draft.
HBCU athletes are generally picked on the weekend of the draft. Some recent HBCU NFL standouts include Los Angeles Rams cornerback Cobie Durant, from South Carolina State, and Detroit Lions linebacker James Houston IV, from Jackson State.
For this year's draft, here are the five HBCU prospects to keep an eye on.
If you don't love the idea of Will McDonald in the first round, then you may be interested in Isaiah Land on day three. Similar build and skill set. Could be an excellent value pick. pic.twitter.com/JkmMO1W8OX

— Caleb James (@CJScoobs) April 20, 2023
Isaiah Land, linebacker, FAMU
In 2021, Land won the Buck Buchannon Award for the FCS National Defensive Player of the Year. In that season, he also led the nation in sacks and tackles for a loss.
He would become FAMU's first NFL Draft pick since 2013.
We support you Mark Evans II!

Let's go Nupe!

— Michael D. Mason (@_masmd1978) February 3, 2023
Mark Evans II, offensive lineman, Arkansas-Pine Bluff
Listed at 6-ft-2 and 303 pounds, Evans ran a 5.45-second 40-yard dash at the NFL Combine. He told Stan Becton in an interview his leadership style in college was more by example than vocal.
Jackson State's Aubrey Miller, Jr. (@Loose_Qannon)with the huge hit at the @seniorbowl🔥🔥🔥🔥#SWAC #HBCUS🏈🏈🏈🏈 pic.twitter.com/BtmKLro0hm

— yardtalkhbcu (@yardtalkhbcu) February 4, 2023
Aubrey Miller Jr., linebacker, Jackson State
A Missouri transfer, Miller left the SEC to play for coach Deion Sanders at JSU for three seasons in spring and fall 2021 as well as fall 2022. Miller finished in the top three of the Southwestern Athletic Conference for tackles in each season with the Tigers. The hard hitter identified himself early as one of the program's leaders during the Coach Prime era at JSU.
The 2021 Buck Buchanan Award winner Jordan Lewis
pic.twitter.com/RiVSJKf4bd

— Maliik Obee (@NFLMaliik) April 27, 2023
Jordan Lewis, linebacker, Southern
Lewis won the Buck Buchannon Award for the 2021 spring season. That year, he led the SWAC with 10 solo sacks and another assisted sack.
🚨Take a look at De'Jahn "Nugget" Warren showing off some of his skills at the NFL HBCU COMBINE 👀🔥‼️ #nfl #hbcucombine #nflhbcucombine #nfldraft #nflnews #hbculegacybowl #jsufootball #hbcu #swac pic.twitter.com/JIaoMx0O6P

— Elizabeth Stamps (@Stamp5Elizabeth) February 21, 2023
De'Jahn Warren, cornerback, Jackson State
De'Jahn "Nugget" Warren is an athlete who flipped his commitment from UGA to play for Sanders at Jackson State. Before Travis Hunter made headlines as a No. 1 prospect heading to play for Prime, Warren was one of the nation's top JUCO prospects. His speed makes him an explosive option every time he sets foot on the field.