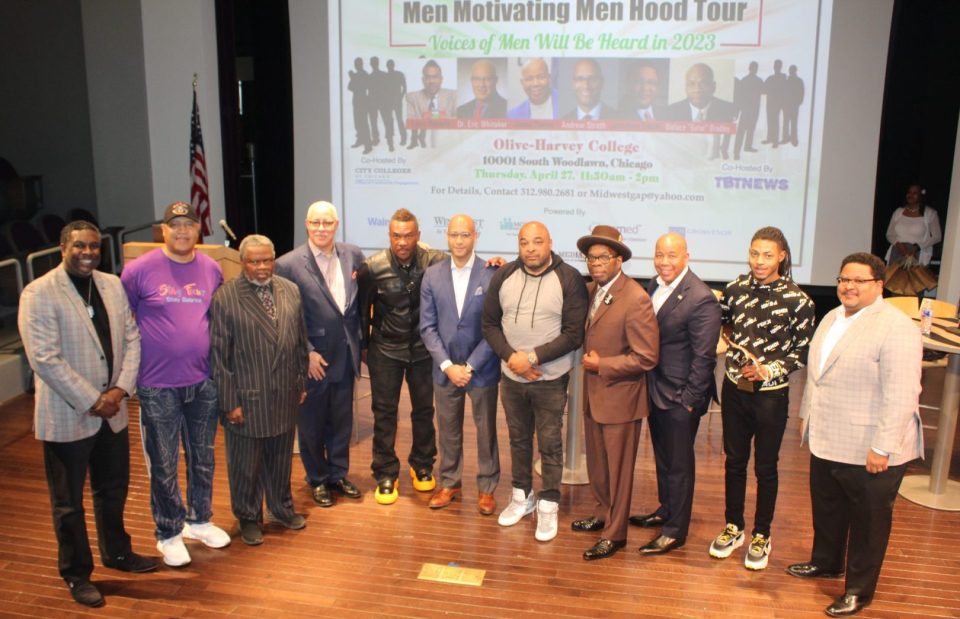 TBT NEWS CEO Carl West's "Men Motivating Men Hood Tour" launched in February of 2023. The tour made its latest stop on April 27, 2023, at Olive-Harvey College in Chicago. The City Colleges of Chicago co-host the event along with TBT NEWS. The event is an inspirational spirited event that centers on the idea that men should always be in a position to motivate each other to do better. These men who represent all walks of life share their learned perspective of what manhood means within their communities, families and businesses.
The featured speakers were Larry Roberts, Dr. Eric Whitaker, James Parker, Andrew Stroth, Jonathan Swain and Wallace "Gator" Bradley. Each speaker shared their background and what was essential to their growth and success. The common thread among all of the speakers was the notion of making decisions and the fruit of those decisions. The first five panelists shared their stories and backgrounds and the event closed out with a Q-and-A between Dr. Eric Whitaker and Carl West.
Artistic roller skater Darius Sanders was presented with the Rev. Al Sampson Award. The Rev. Al Sampson Award is given to a high-caliber man who has excelled in his respective industry each month for the duration of the tour.
The "Men Motivating Men Hood  Tour" will make its way to all of the Chicago City Colleges and wrap up in October of 2023.
Take a look at a few pictures from the event below.