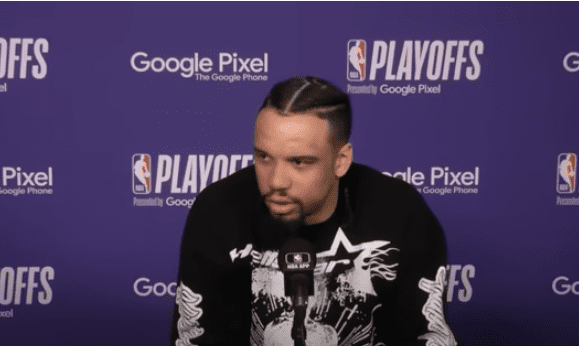 After a period of introspection following a humiliating series loss, Memphis Grizzlies' chief agitator Dillon Brooks begrudgingly acknowledged that he needs to shoot better if he's going to run his mouth.
And, yes, he admits that adversary LeBron James answered his trash-talking with aplomb.
Speaking to the local and national media during the closing press conference, Brooks nevertheless remained defiantly unapologetic about "poking the bear" that is James.
"That's who I am," he told reporters on Sunday afternoon, April, 30, 2023. "I'm a competitor. I compete. I don't think it got LeBron 'geeked' up. He's back in the playoffs, it'd been a little while. He was ready to play."
Prior to this press Sunday sit-down, the NBA announced that it had fined Brooks $25K for refusing "participate in team postgame media availability during the first round of the 2023 NBA playoffs," according to NBA.com. 
This is a radical reversal from Game 2, when a victorious Brooks opined on James, saying, "I don't care, he's old. You know what I mean? I was expecting him to do that game four, game five. He wanted to say something when I got my fourth foul, he should've been saying that earlier on. I poke bears, I don't respect no one until they come and give me 40. I pride myself on what I do."
Following the series win, James seemingly took delight in peeling off a layer of Brooks' hide in a cryptic rap that was borrowed from a Jay-Z song. It went viral immediately, garnering over 44 million views.