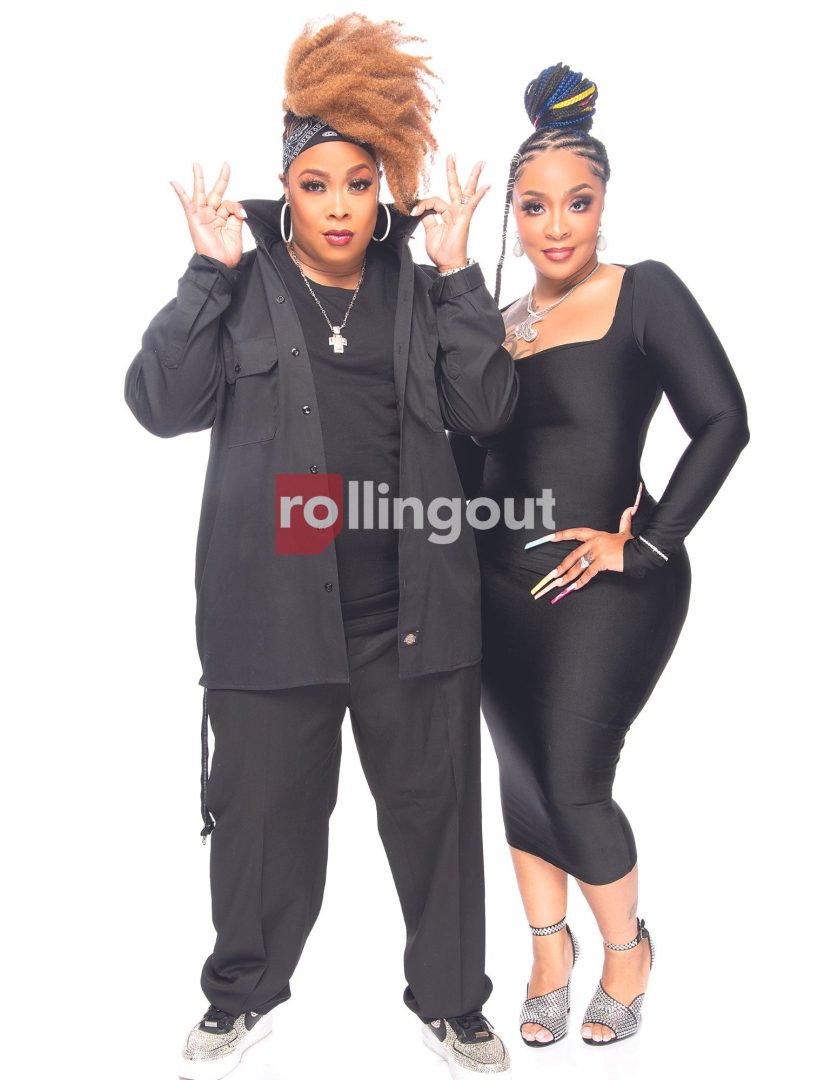 Two years ago, rap icon Da Brat stepped outside of her public hip-hop persona and came out of the proverbial closet, when she asked her girlfriend — New Orleans entrepreneur extraordinaire Judy Harris-Dupart — to marry her. The heart-touching proposal culminated in a wedding ceremony tailor made for reality TV. The happy couple's subsequent WE tv series, "Brat Loves Judy" chronicles their bourgeoning love affair and gives viewers a glimpse into the lives of the female rapper and media personality and her millionaire business mogul wife. With their numerous accomplishments and relatively lavish lifestyles, it follows that the couple have their hands full with professional and personal projects. However, their lives are about to become even more eventful, and hectic, with the impending arrival of a new baby boy.
Fans weren't surprised to learn Da Brat was in a lesbian relationship, but social media went crazy when pictures of a very pregnant Da Brat were released online.
"I know people were shocked to see me pregnant. I was surprised myself," Da Brat laughs. "I never saw myself doing this but talking with my wife I realized that I've had an amazing, fulfilled and accomplished life. I've been blessed to do so many things that some people only dream of, and I'm blessed to be able to carry our child."
Harris-DuPart has three children and a grandchild, but she notes that the experience with Da Brat feels brand-new. After the wedding, the couple were busy planning to launch another product line in Harris-DuPart's hair care empire when people mistook the marketing campaign for a pregnancy announcement.
"Last year, we were doing a campaign to extend the collection for our hair products, and we saw the response people had to us 'birthing something new' and so we started talking about it and did some research. We realized if we wanted to do this, the time was now and so we got serious about the process and started talking to doctors," Harris-DuPart explains.
Ultimately, the loving couple decided the best course of action was for Da Brat to be implanted with the offspring produced using Harris-Dupart's egg and sperm from a donor. Finding a donor wasn't an easy endeavor, and several media outlets suggested the couple intentionally sought a donor who was not African American. Harris-DuPart was upset about the media message and mix-up that led fans to assume the worst.
"A lot of media sites misconstrued what we said and ran with a false narrative. But our entire journey is documented. On the show, you see us looking for Black donors and you see what we were dealing with. Out of the three cryo banks that we had access to, Black men make up less than 2 percent of the donor pool. When you factor in my medical history and the fact that we need a donor that won't have the same traits so that we have a healthy baby, that small percentage is almost nonexistent. Our primary goal is to have a healthy baby, but we waited to try to find another option. In the end, we went with the choice[s] that we had, but it doesn't even make sense that we wouldn't have wanted a Black donor," Harris-DuPart shares.
Beyond Black donors being scarce, the couple's journey ran into additional obstacles with Da Brat miscarrying their first baby.
"She took it really hard, and I tried to comfort her as much as possible. She made the decision to try again just three days later and that time everything went fine," Harris-DuPart says.
The couple haven't figured out their upcoming Mother's Day plans, in fact, Da Brat seemed shocked the weekend was almost here.
"I didn't realize Mother's Day was this coming weekend," she laughs. "I don't know what we're doing."
She did, however, accept an opportunity to perform at Usher's Lovers and Friends festival in Vegas, explaining that it was something she couldn't pass up.
"Performing this past weekend was great. I do feel pregnant," she says," I feel vulnerable, get tired quicker, I'm always sleepy and my ankles are swollen; but I wanted to make this performance special. I felt really special being onstage and our baby being a part of that performance. I feel most like myself when I'm onstage performing and so I saw it as an opportunity to bring my worlds together."
As Da Brat and her wife await the arrival of their baby boy, they are committed to loving each other and their family as much as possible.
Da Brat is clear on the couple's priorities for their prince in the making.
"Most importantly, we want a healthy baby. I know he is going to be spoiled, but we don't want him to be entitled," Da Brat says. "I want to raise him with morals. I want him to be a good person."
Photography by Nathan Pearcy