Jamie Foxx's daughter is going volcanic at the mainstream media and blogs alike for propagating false theories and scenarios about her superstar father's health and prognosis.
Corinne Foxx, 29, explained to her half-million followers on Instagram that the Oscar-winning actor, producer, rapper, singer and songwriter has "been out of the hospital for weeks, recuperating."
In fact, Foxx, 55, was discharged from the unnamed Atlanta area hospital weeks ago. Therefore, the reports that the actor's family was "preparing for the worst" were patently false.
Moreover, the daughter indicates that Foxx's health has improved significantly enough for the Ray actor to engage in strenuous exercises.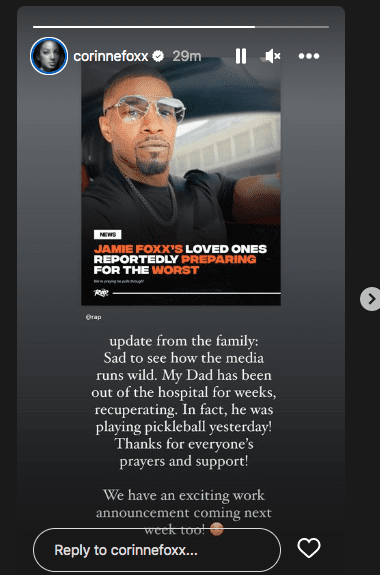 Corrine Foxx then announced that the Foxx camp has something important to share with his fans in the very near future.
"We have an exciting work announcement coming next week too!" she exclaimed.
As per Foxx's nature, he and the camp gave no word on what medical emergency Foxx suffered that caused him to be hospitalized in April 2023. And therefore, the extent or nature of Foxx's "recuperation" is unclear. 
The only thing that is clear is that Foxx and his daughter Corinne will not be able to fulfill their duties on their hit musical game show, "Beat Shazam," in the coming season. Foxx's team has commissioned actor and TV show host Nick Cannon to take over the show for an indefinite period of time.