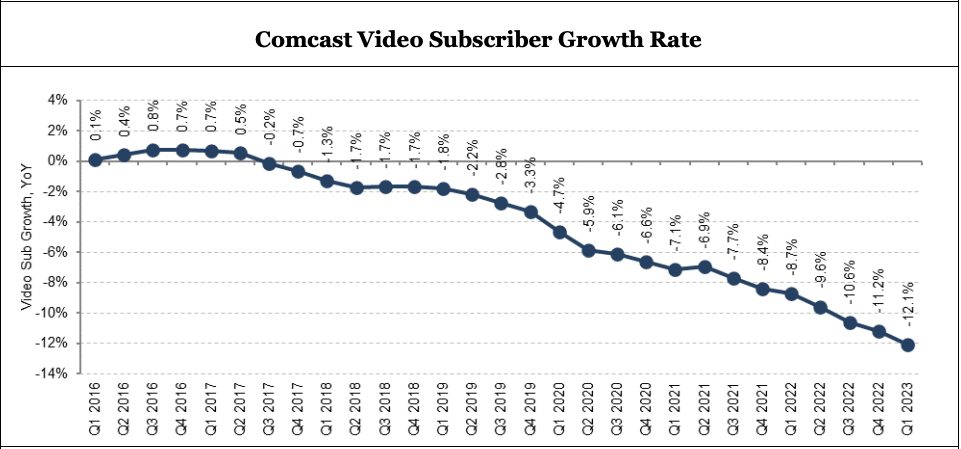 By Rick Ellis
NBC Universal's parent company struggled to find their footing in the first quarter of 2023 on its subscription videos as performance decreased in the first quarter of 2017.
Comcast released their Q1 2023 earnings this morning and while it wasn't a bloodbath, there wasn't a lot of good news.
The company lost 614,000 pay TV customers in Q1, more than in any previous quarter. That compares to 512,000 subscribers lost during the same quarter a year ago.
The media giant was able to beat Wall Street's expectations reporting a net income of $3.8 billion as it hit 22 million subscribers.
The shares of the company adjusted by 92 cents per share on its revenue of $29.7 billion for Comcast.
 
Comcast lost 2.034 million pay TV customers in 2022, a 12% loss of its subscriber base. With rival Charter Communications (currently #2 in the industry) losing subscribers at a lower rate, Comcast is looking at a scenario where it would drop to the number two pay TV company by the end of 2023.
Ironically, Comcast is making more revenue from a smaller subscriber base. But that is primarily due to regular price increases and forcing various random fees onto current subscribers. An approach which ironically costs the company more subscribers in the medium term.
Comcast's streaming service Peacock continues to be one of the company's good news/bad news stories. 
Peacock is in competition with other streaming services that includes Netflix, Hulu, HBOMax, and Paramount+ that are the highest rated of services.
On the upside, Peacock added two million subscribers in Q1 and now has more than 22 million paid subscriptions. As a reference point, Peacock added three million subscribers in Q4 of 2022. 
Another positive is revenue, which is up 45% vs. a year ago. $685 million in revenue for the quarter certainly sounds impressive.
The downside is that Peacock lost $704 million in Q1 and is expecting losses for 2023 to be around $3 billion. 
Even worse, it's not clear what the path might be for improving the streamer's bottom line. Executives are arguing that 2023 will mark the high watermark for losses, but that seems to be based more on wishful thinking than any sort of improving strategic plan.
Of course, all of these losses only increase the conventional wisdom drumbeat that Comcast and Warner Bros. Discovery will OF course merge, and it is not just good business but inevitable. 
Edited by Alberto Arellano and Virginia Van Zandt
Recommended from our partners
The post Comcast Struggled In First Quarter Earnings As Peacock Struggled In Subscribers appeared first on Zenger News.