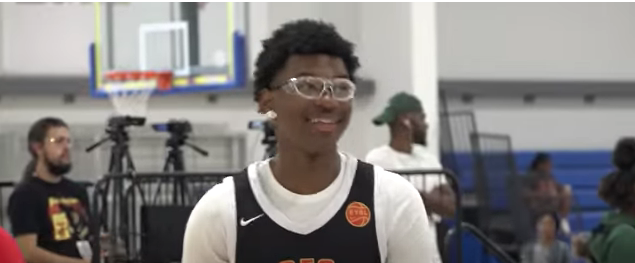 The younger son of Los Angeles Lakers legend LeBron James is leaving powerhouse high school Sierra Canyon for a competing school, the media reports.
Bryce James, 15, is going to enroll as a sophomore at Campbell Hall High School in Studio City, a prosperous neighborhood in the city of Los Angeles, and is about 20 miles away from Sierra Canyon.
Last year as a freshman, the 6-foot-6 Bryce played alongside his older brother Bronny James at Sierra before Bronny graduated and enrolled at the University of Southern California which is also in L.A.
ESPN reports that Bryce will play with other notable sons of celebrities, including Richard Hamilton II, the son of former NBA star and champion Richard Hamilton, and Baron Bellamy, the son of comedic actor Bill Bellamy.
The school was also the home of the Holiday brothers, Justin, Aaron and Jru, the latter who now stars as a defensive specialist and 3-point marksman for the Milwaukee Bucks.
The coach of Campbell Hall said he will help to mold Bryce mentally as much as anything else due to his own experience in the spotlight.
"I want Bryce, if I get to coach him, to be Bryce," Grace said, according to ESPN. "Because that's special, and I want him to get the most out of his experience here at Campbell Hall and grow. He's going to have way more than just me helping, but I'm going to try to do my part. I understand where he's coming from to a point. I'm not him. My family wasn't in that spotlight, but I've been around the spotlight and I can share my experiences, or I can just understand his experiences. That's where I'll grow as a coach."