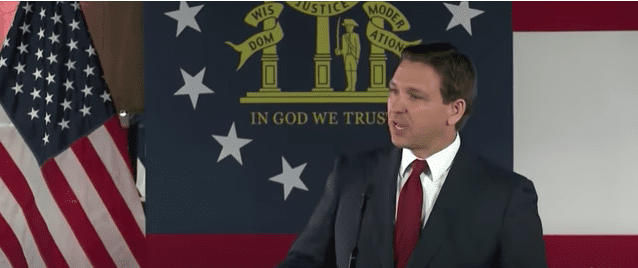 The NAACP is advising African American, minority and LBGTQ+ tourists against traveling to the state of Florida because it is "hostile" toward those demographics.
The civil rights organization issued a warning to travelers of America's cultural subsets due to Florida's insidious maneuvering to erase Black history and eradicate gender equality.
The NAACP is taking the stance "in direct response to Governor Ron DesSantis' aggressive attempts to erase Black history and to restrict diversity, equity, and inclusion programs in Florida schools," the organization penned in a statement obtained by The Daily Beast. 
"Under the leadership of Governor Desantis, the state of Florida has become hostile to Black Americans and in direct conflict with the democratic ideals that our union was founded upon."

— NAACP President and CEO @DerrickNAACP

Take a stand with us. https://t.co/zsgLbNYL8t

— NAACP (@NAACP) May 20, 2023
The NAACP continued, stating: "Before traveling to Florida, please understand that the state of Florida devalues and marginalizes the contributions of, and the challenges faced by African Americans and other communities of color," the statement said.
Per recent reporting in multiple media outlets, DeSantis has signed questionable legislation that outlawed the teaching of racism in Florida's pre- and post-secondary schools.
Derrick Johnson, NAACP president and CEO, stated the governor's actions are "in direct conflict with the democratic ideals that our union was founded upon."
"Let me be clear — failing to teach an accurate representation of the horrors and inequalities that Black Americans have faced and continue to face is a disservice to students and a dereliction of duty to all," Johnson said.
Johnson also mentioned DeSantis' attack against gender equity within the state and its seeming war against Walt Disney World, which is famously pro-LBGTQ+.
"Once again, hate-inspired state leaders have chosen to put politics over people. Governor Ron DeSantis and the state of Florida have engaged in a blatant war against principles of diversity and inclusion and rejected our shared identities to appeal to a dangerous, extremist minority," Leon Russel, chair of the NAACP board of directors, said in the statement.
"We will not not allow our rights and history to be held hostage for political grandstanding," he added.