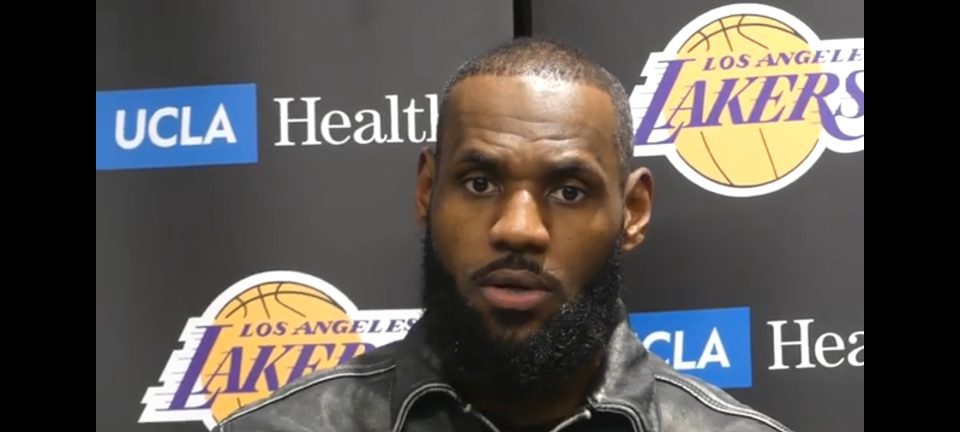 After suffering a humbling four-game sweep that eliminated the Los Angeles Lakers in the Western Conference Finals on Monday, May 22, 2023, LeBron James gave cryptic hints at possible retirement after 20 years in the NBA.
King James exhausted himself in the agonizing Game 4 defeat to the Denver Nuggets by compiling a virtual 40-point triple-double for the Lakers. James played all 48 minutes and finished with 40 points, 10 rebounds, and nine assists for the Lakers. It was to little avail as the Nuggets vanquished the Lakers, 113-111.
The Nuggets will now face the winner of the Eastern Conference Finals between the Miami Heat and the Boston Celtics for the right to play in the NBA Finals. The Heat currently lead the series 3-0 and will also try to eliminate the Celtics in a sweep on Tuesday evening.
James, 38, who indicated that his favorite non-basketball athlete is Ken Griffey Jr., wanted to duplicate the rare feat of Griffey Sr. and Jr. playing on the same team at the same time back in the early 1990s. James said he wanted to play long enough to be on the same team with his own son, LeBron "Bronny" James Jr., who is currently a freshman at the University of Southern California.
That seems to be in doubt with his measured postgame press conference.
"I got a lot to think about," James said somberly after the game.
"I got a lot to think about," James repeated. "Just personally, with me moving forward with the game of basketball, I got a lot to think about. A lot to think about."
Did LeBron James just hint he may have played his last game? pic.twitter.com/864Hp0bk9Q

— Arash Markazi (@ArashMarkazi) May 23, 2023
James, who became the first active player to ever attain billionaire status, signed a contract extension at the beginning of the 2022-23 season. So retirement would mean leaving $50 million on the table.
After becoming renowned for playing his first 15 seasons virtually injury free, James has been particularly susceptible to injury since joining the Lakers in 2019. Injuries have been the biggest culprit in preventing James from procuring another championship trophy with the team so far.
And now, a fifth championship for James is looking exceedingly doubtful as he contemplates returning for his 21st season. He also has to endure offseason surgery on his injured right foot. This will most likely delay his return before the next season that begins in October.
LeBron James to ESPN on his thought process going into the offseason:
Q: When you say you got to think about stuff, what thread should we be pulling on that?
A: "If I want to continue to play."
Q: As in next year?
A: "Yeah."
Q: You would walk away?
A: "I got to think about it."

— Dave McMenamin (@mcten) May 23, 2023