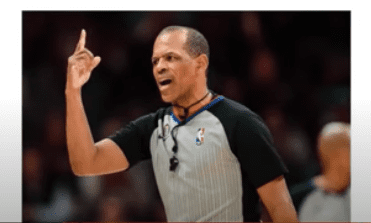 The National Basketball Association has launched a probe into one of its referees after a burner account was created to push back on criticisms of his in-game calls.
Because of the "sensitivity" of this potentially explosive situation, the NBA front office person who confirmed the story to USA Today chose to remain anonymous. The burner account in question, https://twitter.com/cuttliffblair, allegedly belongs to ref Eric Lewis and was deactivated right after a sports fan discovered it on Thursday, May 25, 2023. The fan then reposted screenshots showing the account filled with statements defending Lewis' work.
Lewis, 52, is a renowned NBA veteran of 19 years who is called "one of the best referees" in the league, according to ESPN's Brian Windhorst. Lewis' résumé boasts more than 1,000 games and over 100 playoff games.
The intrigue is amplified due to the fact that Lewis' family members are ardent Boston Celtics loyalists, and Lewis is credited with one of the most controversial no-calls of the NBA season. He was the closest referee when Celtics forward Jayson Tatum seemingly fouled LeBron James of the Lakers when King James drove to the hole for the possible game-winning shot.
James learned of the probe and responded online.
This Eric Lewis 💩 true??? 🤨

— LeBron James (@KingJames) May 27, 2023
The brother of Lewis, Mark Lewis, has since spoken up and claims that he is the owner of the burner account in question but downplayed the severity of his alleged actions.
"This is MARK Lewis," he reportedly tweeted, according to USA Today. "Right family (older brother). I'm sorry that I put E, in this situation, but this ain't Watergate. You're right, the account WILL be coming down. Twitter should not be this vindictive. Sorry to inconvenience you."
Despite the vows to take the account down, Mark Lewis or someone else reactivated the account, although there are no postings on it.