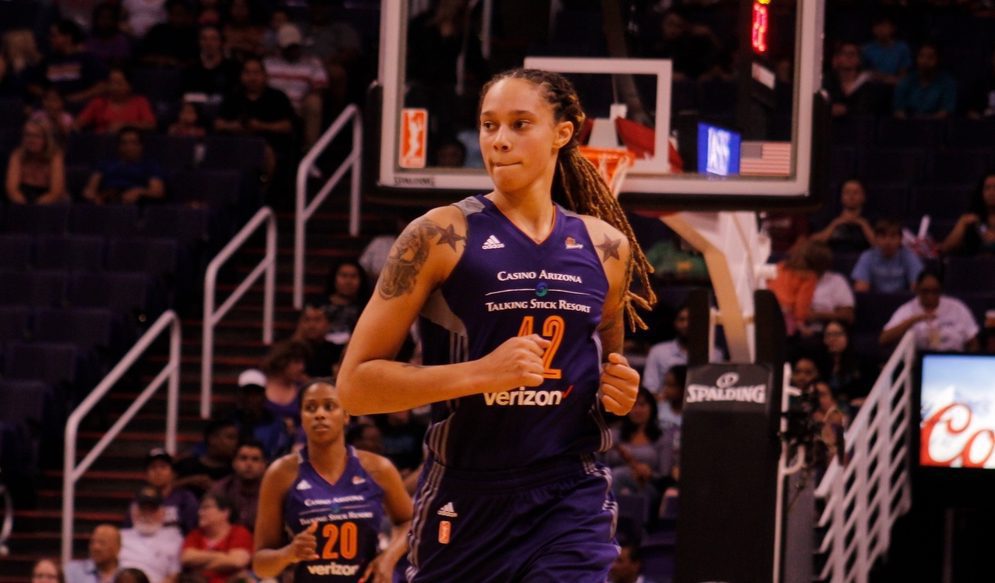 Before she was holed up in a Russian prison for nearly a year, WNBA star Brittney Griner and others knelt during the national anthem in protest of police brutality and racial injustices.
There are some folks who readily throw it back in Griner's face and continue to denounce her as disloyal and unpatriotic. Such was the case when a crazed YouTuber ambushed Griner and engaged in a menacing confrontation while she and her teammates were walking through the Dallas-Fort Worth International Airport on Saturday, June 10, 2023.
In what was characterized as a premeditated and performative rant at Griner for self-aggrandizement purposes, Blaze Media's Alex Stein yelled at Griner and yelled, "Do you still want to boycott America?"
When security tried to pull him away, Stein continued on rant, asking "Why does she hate America? What about the merchant of death, Brit?" He anxiously and quickly posted his moronic tirade on social media and used the snippet to promote his show that will air on Sunday.
Since the @WNBA is writing press releases about me…here is a snippet of my interaction with Brittney Griner today….

Watch the Full Video on my YouTube Channel Sunday Morning 10am Centralhttps://t.co/fe07WOHjct pic.twitter.com/FEnp8Vll6d

— Alex Stein #99 (@alexstein99) June 10, 2023
The WNBA lambasted the "provocateur" for this staged incident and for traumatizing all of the Phoenix Mercury players.
"As we gather additional information about today's incident at the Dallas Airport, it has come to our attention that this was orchestrated by a social media figure and provocateur. His actions were inappropriate and unfortunate," the statement reads, according to Yahoo! Sports. 
"The safety of Brittney Griner and all WNBA players is our top priority. Prior to the season, the WNBA worked together with the Phoenix Mercury and BG's team to ensure her safety during her travel, which included charter flights for WNBA games and assigned security personnel with her at all times. We remain steadfastly committed to the highest standards of security for players."
Griner's teammate Brianna Turner is outraged and joins the deafening chorus of players who calls for charter flights for all WNBA teams.
Player safety while traveling should be at the forefront. People following with cameras saying wild remarks is never acceptable. Excessive harassment. Our team nervously huddled in a corner unsure how to move about. We demand better.

— Brianna Turner (@_Breezy_Briii) June 10, 2023
Breanna Stewart and other marquee players have been championing charter flights for years. But WNBA commissioner Cathy Englebert said the estimated $25 million price tag is far too expensive for the league to incur.