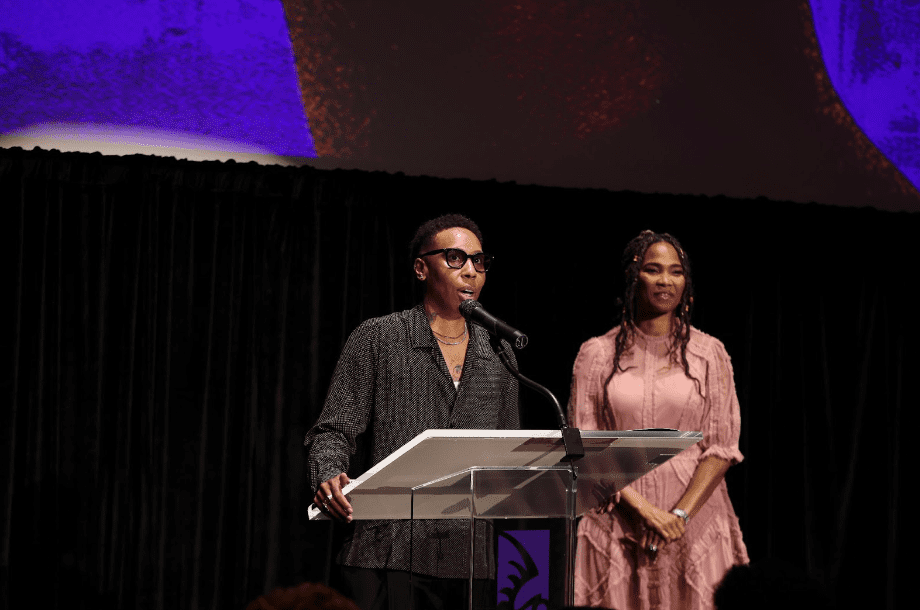 Miami Beach, Florida — June 14, 2023 — The 27th American Black Film Festival opening night heats up Miami Beach as the 2023 festival ambassador, Lena Waithe, and Nice Crowd (formerly ABFF ventures) President & COO, Nicole Friday, kick off the momentous night with welcome speeches to ring in this year's festival. The kickoff comes on the heels of the exciting announcement of the group's expansion into new event offerings under the Nice Crowd banner.
Netflix's satirical conspiracy caper film They Cloned Tyrone premiere and screening takes the spotlight as attendees Juel Taylor, Teyonah Parris, John Boyega, Charles King, Terrence J, Tabitha Brown, Chance Brown, Kym Whitley, Donkmaster and Mayor Dan Gelber join to celebrate the occasion.
The film follows a series of eerie events that thrusts an unlikely trio (Boyega, Parris, and Foxx) onto the trail of a nefarious government conspiracy in this pulpy mystery caper. They Cloned Tyrone will have a limited theatrical release prior to launching on Netflix on July 21, 2023.
They Cloned Tyrone is the directorial debut of Juel Taylor, the writer behind Creed II, and is co-written by Taylor and Tony Rettenmaier. The film is produced by Charles D. King, MACRO, Stephen "Dr." Love, Tony Rettenmaier, Juel Taylor, Jamie Foxx, and Datari Turner. The film is executive produced by Mark R. Wright, Kim Roth, Jack Murray, Federal Films, Dana Sano, Monte Lipman and co-executive produced by James Lopez and Poppy Hanks.
"The American Black Film Festival plays a valuable role in the entertainment industry and has the strong backing of the Miami Beach Black Affairs Advisory Committee, and from the city. The ABFF has become one of Miami Beach's premiere cultural anchor events. Under the leadership of Jeff and Nicole Friday, the festival expresses with full power and pride, the importance of black storytelling and the need for black voices to have consistent outlets of expression. So it is my honor to declare today American Black Film Festival Day. – Glendon Hall, Chair of the Miami Beach Black Affairs Advisory Committee
"These are turbulent times in our world, in our industry and this festival is extremely important because it reminds us that when we come together to lift each other, to see each other. These festivals are like a family reunion, it's not just any festival. To see these filmmakers do and live out their dreams is a blessing. This festival is all about dreams becoming a reality. Chasing dreams is fun, catching them is hard. It's hard but it's worth it, filmmakers and storytellers we do it for you all, thank you for having me." – Lena Waithe
About ABFF
The American Black Film Festival (ABFF) is dedicated to recognizing Black talent and showcasing quality film and television content by and about people of African descent. ABFF founder Jeff Friday conceived the festival in 1997 as a vehicle to strengthen the Black entertainment community by fostering resource sharing, education, and artistic collaboration. Now in its 27th year, the festival has become a key proponent of diversity in Hollywood, providing a platform for emerging Black artists. ABFF, the company's flagship event, is a property of Nice Crowd, formerly ABFF Ventures LLC, a leading entertainment company in the event tourism arena. To learn more about Nice Crowd events, visit www.nicecrowd.com.
For festival more information visit www.abff.com. Follow @ABFF on Twitter and @AmericanBlackFilmFestival on Instagram and Facebook.
Media Contact:
Chelsye J. Burrows ABFF Ventures LLC | [email protected]
The Lede Company | [email protected]