The fourth day of the American Black Film Festival (ABFF) began with a transformative event that celebrated culture, movement, and experience in a powerful way. Morning Mindset with Tai: The Experience to ABFF kicked off at 8 am ET on the lawn at the W Hotel South Beach in Miami. The event was driven by one essential factor: the right mindset. And leading the charge was none other than host, producer, entrepreneur, and trendsetter, Tai Beauchamp.
Morning Mindset with Tai kicked off with a burst of energy, lots of sun and a warm welcome hug from Beauchamp to every guest she greeted. The hour-long well-being session was brought to you by ABFF presenting sponsor Cadillac and welcomed several mindful elements that included soca-fitness dance exercises, a sound bath experience and a community circle discussion to round out the experience amongst attendees. A fire-side chat was also moderated by Beauchamp and featured Juanita Davis Slappy, Head of multicultural marketing, Cadillac. The discussion was designed to explore the intersection of culture, wellness, and the power of mindset. It delved into the importance of representation, the role of wellness in diverse communities, and how a positive mindset can drive personal and professional success.
When asked what it means to be iconic, which is one of Cadillac's signature hashtags, Slappy responded "Cadillac shapes big dreams and bold ambitions; where you're sitting right now is an embodiment of that."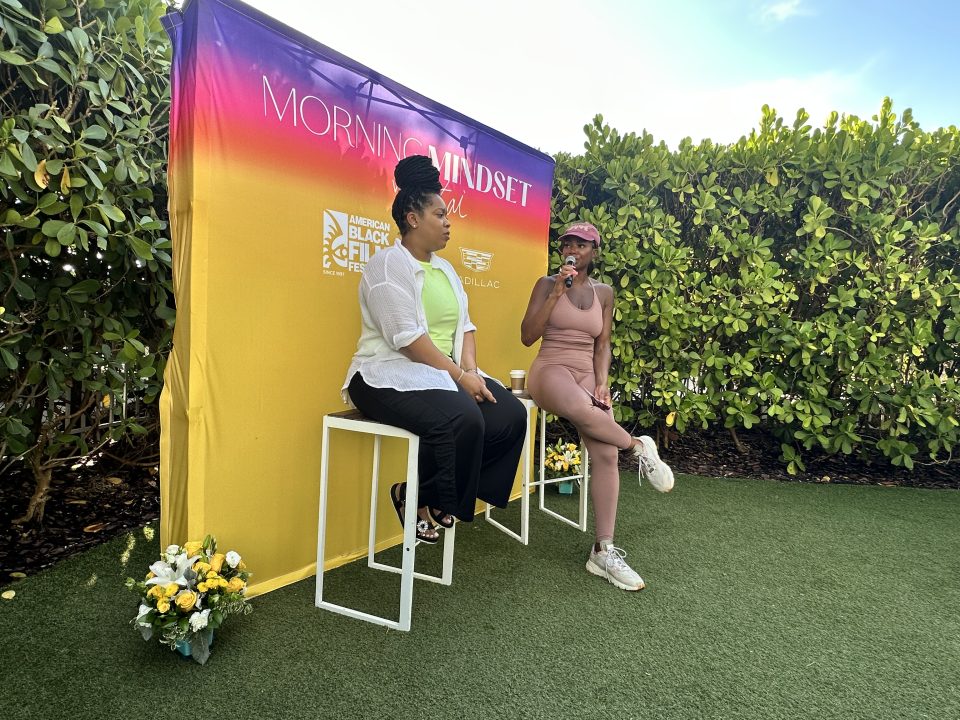 She went on to say, "I get to live my wildest dreams and walk in my purpose everyday by uplifting people and shedding light on a company that has been around 120 years, but I'm also a second-generation Cadillac employee. So, to be my family's legacy and tell this story from manufacturing to marketing, that's what Cadillac is, and that's why we're iconic."
Another highlight of the morning was the inclusion of Soca Fitness. Soca, a genre of Caribbean music known for its infectious rhythms and lively beats, infused the session with high-energy movement. Participants found themselves grooving, dancing, and working out under the sun while embracing the joy and vitality that Soca brings. The fusion of fitness and culture created an electric atmosphere that allowed attendees to let loose and unleash their inner dancer.
The experience didn't stop there. Beauchamp understands the importance of holistic wellness, and thus she incorporated a sound bath experience into the session, which was led by one of her partners. Sound baths are a practice rooted in ancient healing techniques that utilize sound frequencies to promote relaxation, reduce stress, and restore balance. Participants immersed themselves in a symphony of soothing sounds, allowing the vibrations to wash away tension and cultivate a deep sense of inner peace.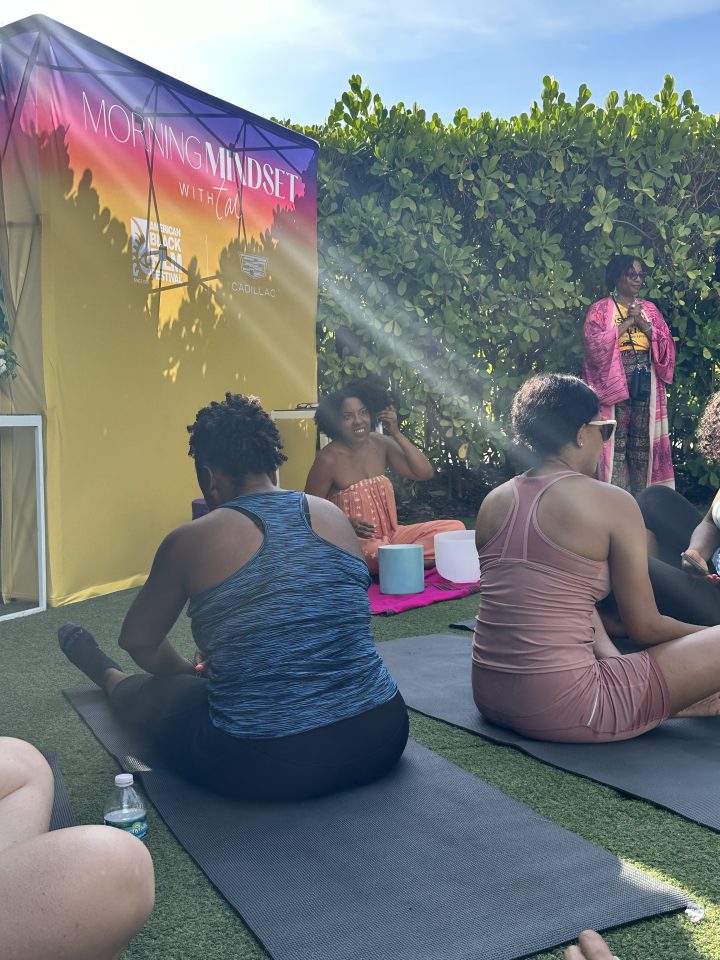 The physical and sensory session ended with fostering a sense of community and connection. To round out the event, Beauchamp asked attendees to gather in small community circles of four to five people for a quick connection discussion. The intimate setting encouraged open dialogue, allowing participants to share their thoughts, insights, and personal experiences as it related to the superpowers they give the world and what they wanted to receive in return. It was a safe space where connections were forged, perspectives were expanded, and individuals can drew strength from the collective support of their peers.
The Morning Mindset with Tai: The Experience to ABFF took place on Saturday, June 17, at 8 am ET. Participants left feeling refreshed and renewed after a transformative morning that set the tone for an exceptional last day at ABFF.