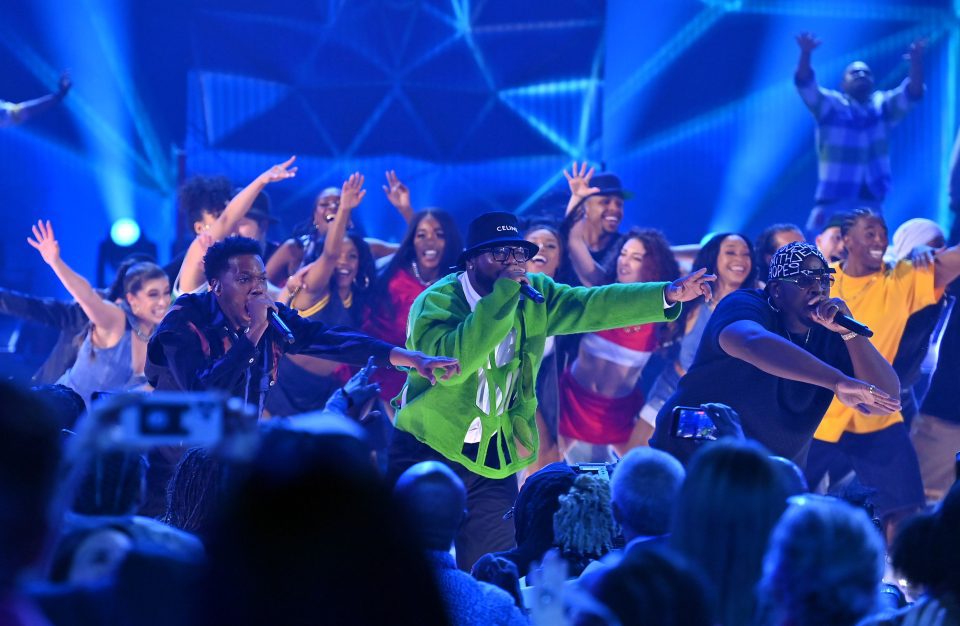 The 2023 BET Awards faced the hurdle of producing "Culture's Biggest Night" without writers amid the Writers Guild of America strike, according to comedian KevOnStage.
So there's no host because of the writers strike. But the presenters are reading off a teleprompter. So who wrote that?

— Kevín (@KevOnStage) June 26, 2023
There wasn't a host and the teleprompter, from whoever provided words on the machine, wasn't working at times, but the show still had its fair share of memorable moments.
Here are rolling out's top five.
Migos reunite
After a year-long public dispute, Offset and Quavo officially reunited for a tribute performance to late Migos member, Takeoff. The duo opened up the performance with Takeoff's verse on "Hotel Lobby" before going into "Bad & Boujee."
Quavo and Offset reunite at the #BETAwards for a performance honoring the late Takeoff: pic.twitter.com/3MWgL6XrqI

— philip lewis (@Phil_Lewis_) June 26, 2023
JT throws phone at Lil Uzi Vert
JT, one half of the City Girls, looked visibly upset with boyfriend, rap star Lil Uzi Vert. She threw her phone at Uzi. The altercation occurred after Uzi interacted with fellow rapper Ice Spice, according to social media.
https://twitter.com/bobbalammedia/status/1673178373403582464?s=46&t=WZtN1BK_-fusjT-7SVN5kg
Chief Keef returns to the network
After a decade-long ban from the network, Chief Keef returned to BET to perform "Faneto." The drill music legend had the entire theater jumping with the party-starting tune.
Chief Keef performed "Faneto" at the BET Awards after a 10-year ban. 🔥 💯
pic.twitter.com/oOTU8US3nM

— No Jumper (@nojumper) June 26, 2023
F.L.Y. closes show with massive "Swag Surf"
Kid Capri closed the night of celebrating 50 years of hip-hop with a set dedicated to all of the dances of the genre. The set included DEM Franchise Boyz's "Lean Wit It, Rock Wit It," Soulja Boy's "Crank That (Soulja Boy)," Doug E. Fresh danced to Cali Swag District's "Teach Me How To Dougie" before F.L.Y. closed with the Swag Surf on "Swag Surfin'."
Might be the blackest moment in BET Awards history 🤣😮‍💨🔥 #BETAwards #BetAwards2023 #swagsurf pic.twitter.com/kFtlxsx565

— Himi Hendrix 🎸 (@DeejayD9_3) June 26, 2023
Patti LaBelle calls out teleprompter 
During Patti LaBelle's tribute to Tina Turner, the legendary singer said she couldn't read the words to "The Best."
"Due to the crowd's enthusiasm, the teleprompter was obstructed, obscuring Ms. LaBelle's view of the lyrics," a BET spokesperson told The Hollywood Reporter. "Nonetheless, we couldn't be more grateful to Ms. LaBelle for lending her incredible talent to this moment."
'I'm Tryin', Y'all!' Oh no… Patti LaBelle fumbles lyrics during her Tina Turner Tribute at BET Awards. 😬🎶

"Due to the crowd's enthusiasm, the teleprompter was obstructed, obscuring Ms. LaBelle's view of the lyrics," said a #BETAwards spokesperson. ➡️https://t.co/0qrOCmFuj1 pic.twitter.com/eoI5168RTp

— John-Carlos Estrada 🎙️ (@Mr_JCE) June 26, 2023