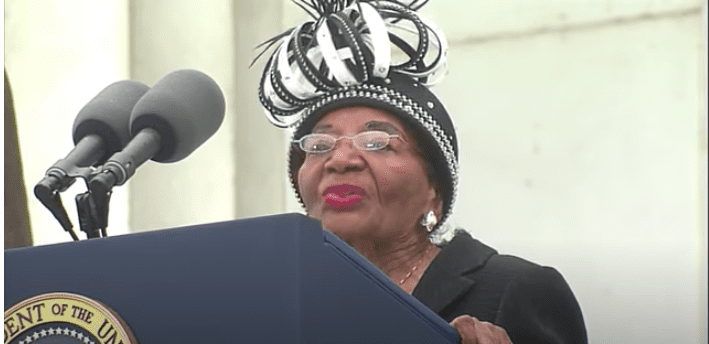 Dr. Christine King Farris, the last living sibling of the Rev. Dr. Martin Luther King Jr., has died. She was 95. 
King Farris' passing was confirmed by The King Center in Atlanta. The cause of death was not revealed. 
Her niece, Dr. Bernice King, saluted King Farris in a powerful message on Twitter:
Dr. Christine King Farris.
An extraordinary educator.
My father's sister.
One of the co-laborers with my mother in founding The King Center.
Phenomenal Woman.
Inspiring Human.
She survived and thrived.

I love you, Aunt Christine.
I will always cherish you.
I will miss you. pic.twitter.com/Xdt3Ot0pCy

— Be A King (@BerniceKing) June 29, 2023
"Our family mourns the passing of my aunt, Willie Christine King Farris. As the eldest sibling of my father, Martin Luther King Jr., Aunt Christine embodied what it meant to be a public servant. Like my dad, she spent her life fighting for equality and against racism in America," MLK III penned. 
He continued, "She defied the odds that held back too many marginalized communities — going on to become a civil rights leader and acclaimed author. No stranger to adversity, Aunt Christine used the tragedies of the assassinations of her mother and brother to fight for change in America. We will truly miss my Aunt, but know that she leaves behind a tremendous legacy that will outlive us all and we commit to carrying that legacy on for future generations."
The King Center Mourns the Loss of Dr. #ChristineKingFarris, Founding Board Member, Esteemed Educator, Author, Activist, and Sister of #MLK pic.twitter.com/jvf38iJk1U

— The Martin Luther King, Jr. Center (@TheKingCenter) June 29, 2023
"Mrs. Farris was a force in her own right," Atlanta Mayor Andre Dickens said in a statement obtained by WSB-TV. "As the last of the King siblings, she spent much of her life advocating for equality. She once said that her brother Martin simply gave us the blueprint, but it was our duty 'to carry it out.'"
King Farris was born on September 11, 1927, and graduated with a degree in economics from Spelman College in 1948 on the same day that Martin King obtained his sociology undergrad degree from Morehouse.
She later earned her master's degree from Columbia University and went on to teach at Spelman for 48 years before retiring in 2014.
"She may not have always been on the line of the march, but that was true with a lot of the heroes of the Civil Rights Movement," Marcellus Barksdale, a history professor at Morehouse College, said about Farris in a 2009 interview with The Associated Press. "Because of the luminescence of Dr. King and Coretta Scott King, Christine kind of got dimmed by that, but she was no less important."
King Farris witnessed her mother being murdered by a White racist in church while playing the organ in 1974. This tragedy came after the premature deaths of her brothers, Martin Luther King and Alfred Daniel "A.D." King. She later became a founding board member of the nonprofit that MLK's wife Coretta Scott King founded in 1968.
King Farris was also a prolific author. The most prominent of her books is My Brother Martin: A Sister Remembers Growing Up with the Rev. Martin Luther King Jr., which probed how she attained success and happiness in life despite the inordinate number of tragedies her family experienced.