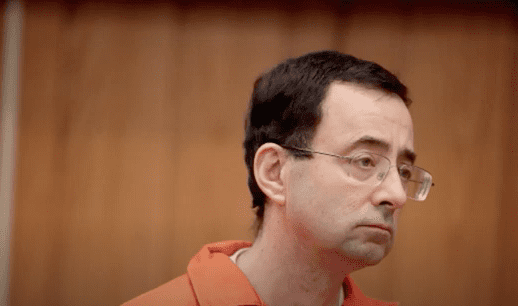 Larry Nassar, the disgraced former sports doctor and college professor who sexually abused dozens of female Olympic gymnasts while they were teens, was stabbed multiple times in a Florida prison.
Nassar was reportedly stabbed in the neck, chest and back, and suffered a collapsed lung in the assault on Sunday, July 9, 2023, at the United States Penitentiary Coleman in Florida. The news was confirmed by Joe Rojas, president of Local 506, the union that represents the employees at the prison, NBC 6 reports. 
The Federal Bureau of Prisons confirmed that an incident happened at the prison about 90 minutes away from Tampa, but declined to elaborate in its statement to ESPN.
"We can confirm on Sunday, July 9, 2023, at approximately 2:35 pm, an inmate was assaulted at the United States Penitentiary (USP) Coleman II, in Sumterville, Florida. Responding staff immediately initiated life-saving measures. Staff requested Emergency Medical Services (EMS) and life-saving efforts continued. The inmate was transported by EMS to a local hospital for further treatment and evaluation."
Nassar was sentenced to hundreds of years after being convicted of child pornography and abusing scores of teen girls and women at Michigan State University as well as during his tenure for USA Gymnastics, including all-time great Simone Biles and gold medalist Gabby Douglas.
There are no details as to what precipitated the violence. But it is common knowledge that convicted child abusers are normally subjected to particularly brutal treatment behind bars.
Nassar was originally sentenced to serve his time in Tuscon, Arizona, but was attacked as soon as he was placed in general population, ESPN reports. Now that he has been attacked at the prison in Florida, an insider told the sports outlet that he will have to be moved to another federal facility.