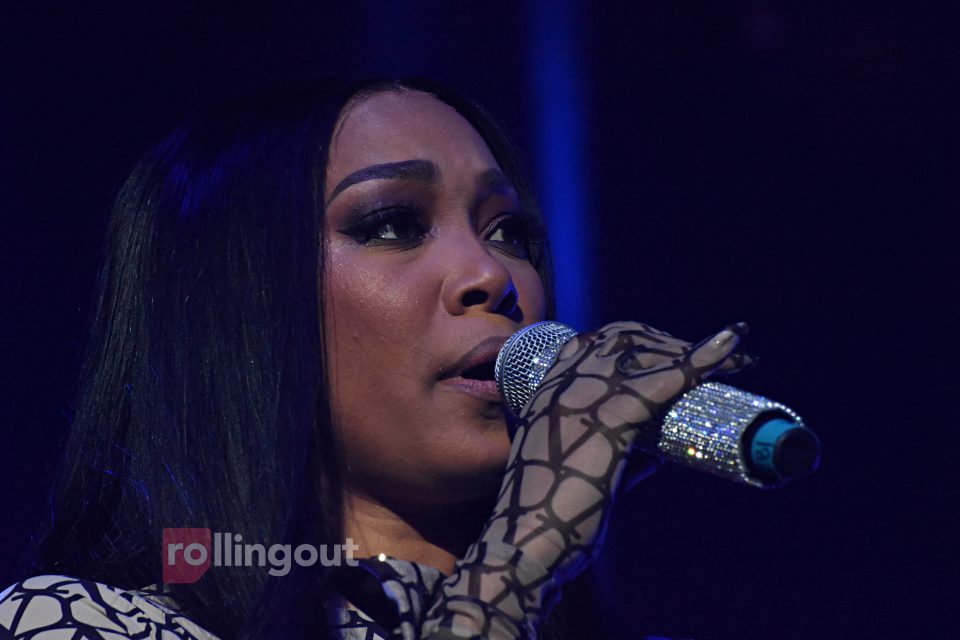 Monica became a heroine in Detroit when she stopped her show to jump offstage and courageously confront a male fan who allegedly punched a woman near the front row.
The resplendently dressed "Angel of Mine" songstress was belting out melodious chords while outfitted in a chic pink skirt, matching jacket, and ruby-red thigh-high boots when she abruptly stopped singing. She began berating a man whom she said threw a vicious "punch" at a woman with "all his strength" and demanded that security escort the man out.
"No, don't you hit her like that," Monica barked loudly at the male aggressor. "Listen, listen, listen … if y'all don't get that n—- up out of here. We [not] even supposed to play like that. "You don't hit no f——g lady like that. Is you out [of] your f—–g mind?"
Monica already had her pink cape on, therefore, when she didn't believe security was responding fast enough, Monica handed stage security her mic and jumped down on to the audience floor to handle the man herself.
N that's why she'll forever be protected #goonica https://t.co/EL7MYqeVFO

— V🏁💙 (@TheRealV_Angel) July 23, 2023
As Monica climbed down off the stage, you can hear concertgoers express confusion at first, saying "What the f—?" After Monica squashed the matter to her satisfaction, she delivered one last tongue-lashing for the wayward male.
"You don't hit a lady like that, you f—–g sucka a– n—!" Monica bellowed at the man as the audience cheered her. One person can be heard in the background saying: "Get him the f— out! Get his a– out of here!"
Singer Monica stopped her show and to confront a man who allegedly hit a women during the show. pic.twitter.com/z0bx4tL3wX

— Anthony Tilghman (@AnthonyTilghman) July 23, 2023
Afterward, the celebrated singer stopped by The Shade Room to apologize for stopping her show — though many Monica fans told her in the comments section that the apology was totally unnecessary.
"I apologized there and I'm apologizing here for my actions, but no one would take action ! I was so triggered, I watched and she didn't appear to even know him! It appeared to be about space during a packed concert! He punched her with ALL his strength! My intentions were to prevent her from being hit again and she wasn't! I asked for help, it fell on deaf ears! It was like seeing my mother or an aunt be assaulted!! This woman was 50 plus, I pray she's ok! Happy Sunday to everyone!"
And she wanna know why we call her #Goonica.

— J.I.M.B.R.O.W.S.K.I. (@PeaceAndCheese) July 23, 2023
While she was lauded for handling the matter, the fact that  Monica is quick to mix it up has earned her the nickname "Goonica." 
While "Goonica" was originally supposed to be a slight toward Monica, she said during an Instagram Live session in 2022 that she doesn't take it that way. 
"Believe it or not, it started as an insult," she explained. "It was like 'Goonica' or 'Glockica.' It was supposed to be an insult, but I was never insulted. I don't play about my family, my business, my integrity, the people I love … Goonica really derived from me — you remember 'kick down your door and smack your chick/just to show you Monica not having it."