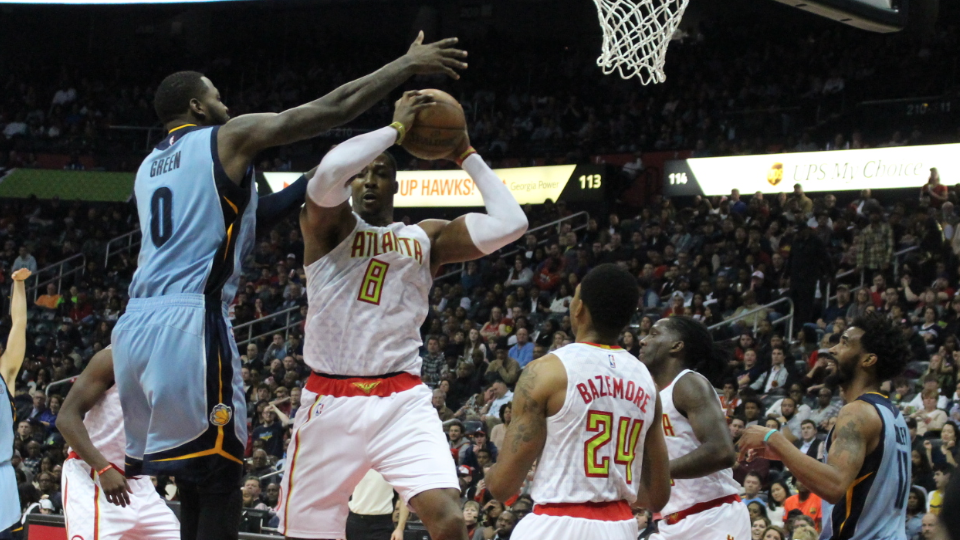 Dwight Howard has added his perspective to the age-old debate of Kobe Bryant vs. LeBron James. Howard played with Bryant on the Los Angeles Lakers in the 2012-13 season, and with James on the same team during the 2019-20 and 2021-22 seasons.
Howard recently was a guest Math Hoffa's "My Expert Opinion" podcast to share the difference between playing with both of them.
"I was at two different stages of my life and career with both players," Howard said. "With Kobe, I was super young. I was in my prime. Not that I was egotistical, but I felt highly of myself because of my accomplishments and I never had a superstar teammate."
When Howard was traded to the Lakers in 2012, he was the NBA's biggest trading piece. He came to Los Angeles to help Bryant win his sixth championship, alongside former MVP point guard Steve Nash. The team had a lot of preseason hype but ended up getting swept in the first round by the San Antonio Spurs. Howard played through a back injury while Bryant and Nash were out with their own injuries.
"I thought we [he and Bryant] bumped heads a lot because of the age gap, for one, and me just never experiencing having another alpha star before," Howard said.
When Howard went to the Houston Rockets following the failed season with Bryant, the Black Mamba confronted Howard in their matchup against each other and called him "soft."
"As I got older, I started to realize more of how he felt," Howard said. "As a young ball player, you're not seeing that you think the game lasts forever. When you get older, you see you don't have that same amount of time and energy to put into this, that and the third. It might have seemed like we fell out, but it wasn't really like we fell out. We just had some disagreements on the court like any other team."
He then took a moment to think about his days playing with James.
"LeBron almost acts like someone from the southside of Georgia," Howard said. "We act kind of like kids. Joking, silly, have a good time, we get on the court, we're still going to have a good time, but we're going to dominate.
"Kobe ain't bulls—– with nobody. He might come in the locker room and not talk, and everybody's like, 'So he's just going to walk right past us.' He's not going to dap anybody up, give a head nod, he's just going to walk past us, but that's just how he would come in. Now, looking back on it, I guess he was doing that to get everybody ready for practice because we're too loud, he comes in there, everybody's joking and laughing, but [Bryant] was just a little different in his approach, but that's just Kobe that's just who he is."
"[LeBron's] joking, silly, have a good time… Kobe ain't bullsh*tting with nobody. He might not come to the locker room to talk."

Dwight Howard on the difference between being on a team with Kobe Bryant and LeBron James.

(via @MATHHOFFA)pic.twitter.com/5WECBK4Cxh

— ClutchPoints (@ClutchPoints) August 2, 2023