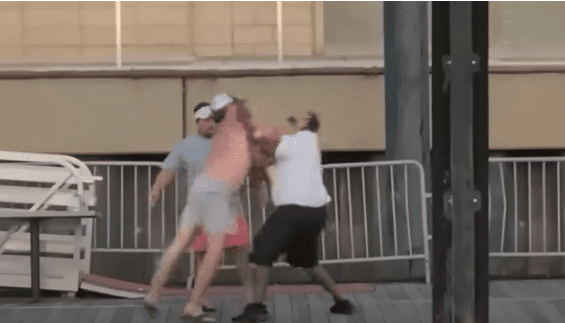 A verbal altercation along the Riverfront in Montgomery, Alabama, on Saturday night, Aug. 05, 2023, quickly degenerated into a racial brawl that led to multiple arrests.
There are several videos floating in Twitter-verse that reveal parts of the brawl that apparently began when a Black security guard tried to get a pontoon boat, which was full of Whites, to move so that a riverboat could dock. The White passengers exited the boat and began swinging on the Black man, who was alone.
The Black security guard did not remain alone for long.
Other Black men in proximity to the fight began to run — and one Black man even swam — to come to the defense of the lone security guard. That set off several rounds of fights in different locations along the riverwalk that saw at least two people get punched or knocked into the water below.
Wow! Black Aquaman is trending I told you this is not 1923 it's 2023 apparently some people are not aware of it https://t.co/7m5drz25Il

— Demp The Honorable Son of YAH (@YAHsJUDGEMENT) August 7, 2023
Montgomery Mayor Steven L. Reed vowed on Sunday that repercussions will be administered to the folks involved, particularly to the folks who attacked the security guard. 
"Justice will be served," he said in a statement obtained by NBC News. 
"The Montgomery Police Department acted swiftly to detain several reckless individuals for attacking a man who was doing his job," Reed added.
Meanwhile, the Black man who swam to help defend the lone Black security guard is being hailed on Monday morning with a myriad of superhero nicknames, some of which have been deemed hilarious.
Even Atlanta morning radio show host Rickey Smiley chimed in on the explosive episode that popped off in his home state.
Top 10 names given to this young hero:
10. Black Aquaman
9. JJ Fish
8. Michael B Phelps
7. Captain Hook
6. Catfish Cuz
5. Kofi Kingfish
4. Tyrone Lochte
3. 21 Tilapia
2. Lil' Namor
1. Shaquille O'Gills pic.twitter.com/a6c4lbe4HP

— Mike Kincaide (@mikekincaide) August 7, 2023
The security guard, Black Aquaman, The Ba-vengers (Black Avengers), The Black Law Enforcement And Security Who Werent Rushing To Stop Any Of This, My People For The Videos And Commentary, And To Black Twitter For Doing What We Do Best… THANK YOU!!! Yall Made My Night 🤣🤣🤣🤣 pic.twitter.com/aXyZ1qvene

— Kenneth (@KennyB2324) August 7, 2023
Ja'Michael Phelps (aka Black Aquaman) really gave that man a Rock Bottom 😂😂😂#BlackTwitter #Aquamayne #B1 #TryThatInMontgomery #Ogun #Montgomery #TryThatInASmallTown pic.twitter.com/UFyhGGkmms

— P. Against The World🤘🏿🕊 (@chillin662) August 7, 2023
I hate mondays, but then i woke up and saw Black Aquaman pic.twitter.com/msCFTKJJhs

— LOL Love Over Loyalty (@Ashermos) August 7, 2023
I'm still smiling because of Michael B Phelps swimming 7 oceans for the assist!!!

— Nasty Woman ✊🏿✊🏾✊🏽✊🏼✊🏻🐘🐾🐩🌊🌊🌊 (@stepht93) August 7, 2023
Michael B. Phelps is the one that got me ☠️☠️☠️ https://t.co/IOtLenMpxQ

— Openly Problematic (@JakeDoesntCare) August 7, 2023
Below is the full report thus far from the local news station, WSFA News 12: