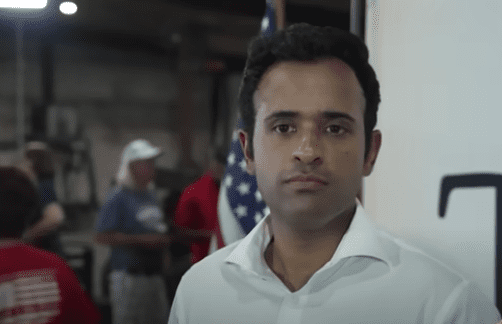 Republican presidential candidate Vivek Ramaswamy switched tunes by telling an overwhelmingly White crowd in Iowa that the Juneteenth holiday is "useless" and should be "canceled."
This is a 180-degree turn from the tune that Ramaswamy was singing just two months ago when he released a video celebrating Juneteenth as a "new holiday" and championing it as a "celebration of the American Dream itself."
Ramaswamy ended this video that he posted on June 19, 2023, by telling listeners, "Happy Juneteenth, everybody."
Juneteenth is a new holiday so we still have a chance to define what it means to us. It needn't be about grievance & self-flogging. Let it be a celebration of the American Dream itself. 🇺🇸 pic.twitter.com/NyHfbJoAlw

— Vivek Ramaswamy (@VivekGRamaswamy) June 19, 2023
Some political observers categorize this as hollow political rhetoric and a morally reprehensible act by Ramaswamy designed to ingratiate himself with White conservative voters at the expense of Blacks.
Former Rep. Will Hurd of Texas, who is biracial, was also in Iowa with the other presidential candidates. He quickly dismissed Ramaswamy.  
"His gimmicks and shtick aren't serious," Hurd said of Ramaswamy to NBC News.
Ramaswamy broached the topic of Juneteenth when he said the country needs to create a voters' holiday by ridding the nation of a current one. 
"Cancel Juneteenth or one of the other useless ones we made up," Ramaswamy told the all-White crowd that, not surprisingly, cheered enthusiastically.