The Woodward Dream Cruise is a big deal during the summer in Detroit, MI and is held annually in August. People come from miles around to revel in car-culture through a weekend-long parade of classic cars and hot-rods floating up and down Woodward Avenue, the historic 27-mile thoroughfare that runs from the Detroit River to the small town of Pontiac, MI. Pontiac is where artist Ivan Quiñones II hails from and it's where he added fuel to the Dream Cruise's excitement, by producing a multi-media event that put local talent and entrepreneurs on blast.
 Positioned about thirty minutes north of Detroit, Pontiac is a blue-collar city with automotive roots, working to rebrand and rebuild economically. Quiñones, who was born and raised Pontiac-proud, is committed to doing his part to promote the arts in his hometown, not only for himself, but for all the  creatives and makers who call "Yaktown" home.
Earlier this year, the artist debuted in his first solo gallery exhibition at Irwin House in Detroit, drawing attention with a powerful Kyrie Irving statement piece and a series of mixed media portraits confronting the silencing of Black and creative voices. Shortly after the successful premiere, Quiñones tried out the East Coast for a stint, but realized in no time that  the grass was actually greener at home. He has since returned to his studio to continue making waves in the place he knows and loves the best.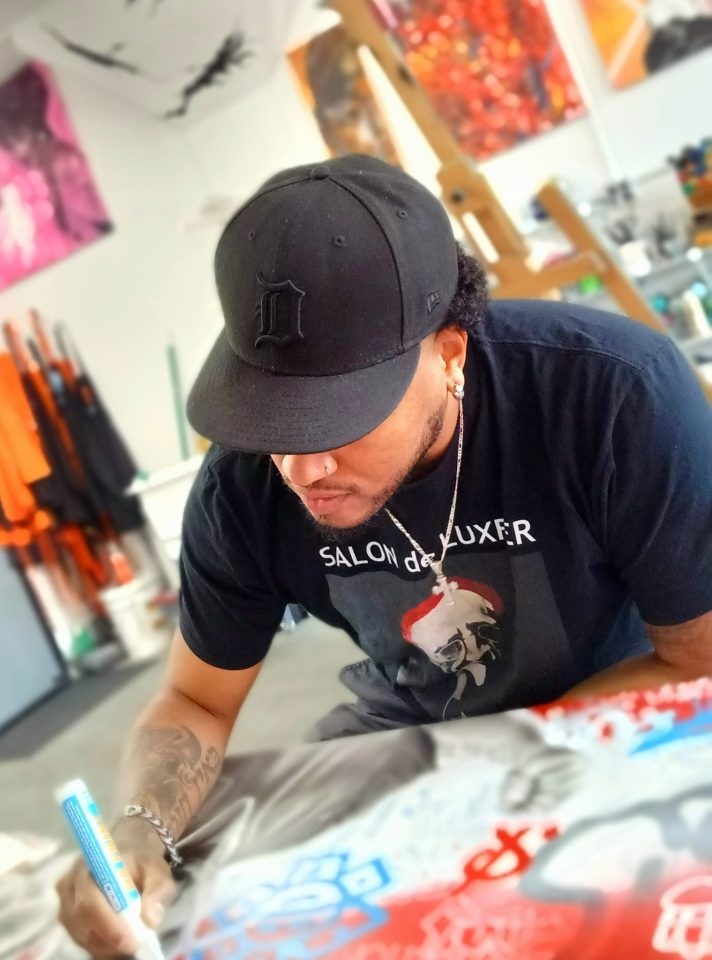 Quiñones remembers a bustling, musical downtown Pontiac from childhood and he hopes to help bring some of that back. To that end, on August 19, 2023, during Dream Cruise,  he presented El Piqasso Palooza, a one-day festival wrapped around an exhibition of his art and collaborations with five local artists, live musical performances, and local vendors indoors and on the street. The event's title played on his business and  social media moniker, El Piqasso, and succeeded in delivering the festive energy that we know paloozas to be.
"I was immediately drawn to the nostalgic feeling of being downtown Pontiac during Arts, Beats, & Eats growing up, Quiñones said. "The concerts, the food, the art, the people. If you grew up here in this city, you know the vibe I'm that I'm talking about."
Quiñones challenged himself to recreate that feeling and went on to develop more than twenty paintings for the exhibition, including collaborations with artists Shameca Mallory, Felice Sky, Brian Lacey, Amy A1 Flores, and Richie Blanko. All paintings were dedicated to musical greats across time and genres.
The evening opened with two hours of live concert footage as a backdrop before DJ Hollywoodzel took over and introduced performances by soulful songstress, Nikita Porter, and rapper, Dell Gotti. Participating small business vendors included Ace's Place, Eleven 21 Mixology, Yaktown Don't Back Down, and Distress Co. Happy art collectors went home with original portraits of Mos Def, Erykah Badu, Bob Marley, David Bowie, Drake, and Sade, to name a few.  Sponsored by Main Street Pontiac, an organization dedicated to the economic growth of Downtown Pontiac, El Piqasso Palooza delivered a celebration of renewal, art, and creativity in the midst of Dream Cruise weekend magic! The event was one in a series of happenings at Vogue Night Club, in preparation for its grand re-opening on the city's main retail strip.
To further add to Quiñones' accomplishments, he was sworn in as one of the newest members to the Pontiac Arts Commission, along with arts and music activist, Ubadah McConner on Monday, August 14, 2023. The artist is grateful to mayor, Tim Greimel, for the invitation and says he looks forward to this opportunity to have a greater impact on arts and culture in his hometown. He says he feels the "heartbeat of Pontiac" growing stronger and just wants to do his part to keep its art scene growing.
All artwork courtesy of Ivan Quiñones II.