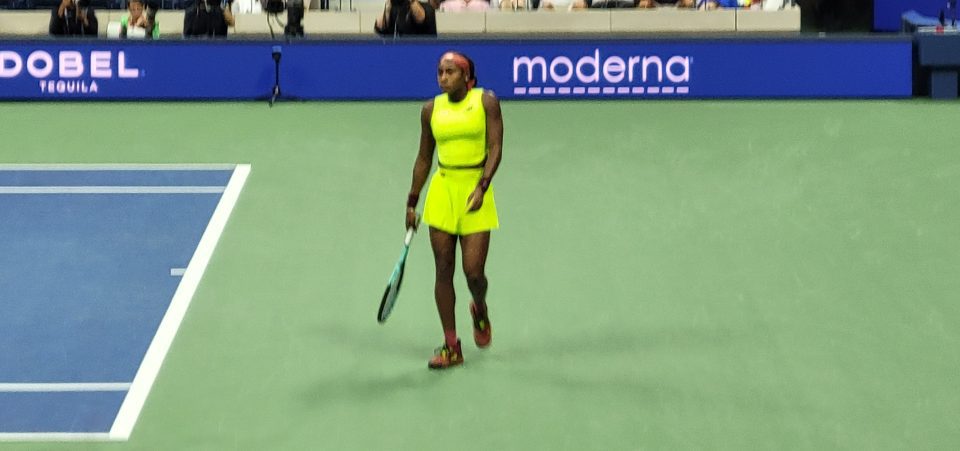 Teenage tennis superstar Coco Gauff continued her superb play by defeating 2018 Australian Open champion Caroline Wozniacki 6-3, 3-6, 6-1 to advance to the quarterfinals of the 2023 U.S. Open Sunday afternoon in a day that saw two other Black players advance to the quarterfinals.
Gauff broke on her first serve attempt to open the match, but won six of the next eight games in impressive fashion to close out the opening set.
When Wozniacki opened the third set by breaking Gauff, there was a nervous energy inside Arthur Ashe Stadium in Queens, New York that included filmmaker Spike Lee, Atlanta Hawks guard Trae Young, and Miami Heat star Jimmy Butler. Gauff rallied and showed she was the superior player.
Gauff dominated, winning the next six games to close out the match and advance to the quarterfinals on Tuesday.
For the tennis sensation, the biggest improvement seems to be confidence, and she talked about flustering opponents with her play.
"I think it gives me a lot of confidence knowing I can hit through people," she acknowledged. "People consider me sometimes someone who plays more passive. But I definitely think this tournament I've been winning the matches off of being the aggressor. Today it showed that I can play aggressive, and I know that's probably when I play my best tennis."
Gauff will play Jeļena Ostapenko on Tuesday, Sept. 5.
Breakout 20-year-old tennis player Ben Shelton, who advanced to the quarterfinals in the 2023 Australian Open, has repeated that feat by upsetting fellow American Tommy Paul 6-4, 6-3, 4-6, 6-4.
Shelton, the biracial son of a two-time winning NCAA tennis championship coach Brian Shelton, lost the first three games of the first set, to get off to a slow start. Shelton then went on to win six of the next seven games to win the first set. Shelton then won two of the next three sets, led by his powerful serve that reaches nearly 150 mph, a tournament-high that elicits sounds of astonishment from the crowd.
Frances Tiafoe also advanced to the quarterfinals in a dominant 6-4, 6-1, 6-4 win over Rinky Hijikata. Tiafoe will face Shelton in the quarterfinals and discussed Tuesday's matchup.
"Ben has wanted to play me at the Open for a long time," Tiafoe said. "He's going to be super excited. He's going to come out with a lot of energy. I'm just going to have to tame him down, try to be the vet and get the win. It's going to be good. It's going to be a great atmosphere, I think great representation for people of color, right? Two people of color playing in the quarterfinals, huge match on Arthur Ashe. It's a pretty monumental moment. I'm pretty excited to compete against him. Hopefully, it's a great battle."