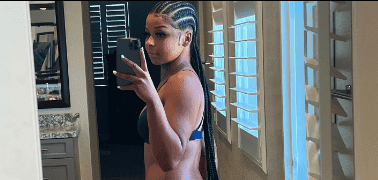 On Sept. 3, Chrisean Rock gave birth to a baby boy named Chrisean Malone Jr., surrounded by her mom and sisters. The emotional moment was filmed on Instagram Live where the new mother cried while delivering her baby.
Two days later, Chrisean showed off her postpartum body to her social media followers, and they were shocked to see her recover so quickly.
Before delivery, she was looking forward to getting her body back.
At first I was scared of labor but now I'm ready for it lol 😩I want my body back 😂😂😂

— ChriseanRock (@ChriseanMalone) September 1, 2023
In the postpartum video, the reality TV star and music artist dances and twirls with a pad on, showing that her body barely changed during pregnancy. Some of her baby bump is visible, but fans were shocked to see her up and moving about so soon after giving birth.
Chrisean Rock LOVING her body less than a week after giving birth! pic.twitter.com/ruYqxnA8ui

— Power 105.1 (@Power1051) September 6, 2023
She later shared a video of herself at the gym working out with her newborn nearby.
"I'm about to start professional boxing ASAP. I'm going to the studio tonight. I'm excited. Do I have postpartum depression? H— no. Life is great. The belly is still a little pudgy and saggy, but this is day one and a half, or two? This is day two. Guys, by tomorrow, I'll have my six-pack. F— is you talking about? Stay tuned, for the glory," Chrisean said.
Chrisean Rock shows post-baby body 2 days after giving birth and says she plans on going to the studio tonight pic.twitter.com/5lx6qDXVvU

— HOUSE OF BLUES (@house0fblues) September 6, 2023
Shortly after, fans criticized her for posting her body before posting the baby. Later, on Sept. 5, Chrisean finally posted a photo of her newborn child.
Chrisean jr. pic.twitter.com/rNicpqEIGD

— ChriseanRock (@ChriseanMalone) September 5, 2023