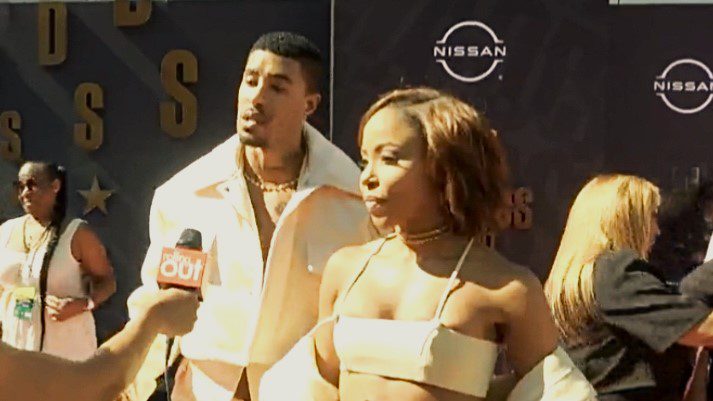 On Sept. 3, Tyler Perry's "Sistas" star KJ Smith and actor Skyh Black officially tied the knot at The Malibu Dream Resort in California. 150 guests were in attendance, according to People, such as Eva Marcille, Loni Love, Tyler Perry, and most of the "Sistas" cast.
KJ Smith and Skyh Black's Star-Studded Malibu Wedding with Tyler Perry and More (Exclusive Photos) https://t.co/bgYKrbSIaD via @people

— KJ SMITH (@kjsmithofficial) September 6, 2023
In addition to the beautiful pictures, the wedding ceremony featured a grand entrance from the Hollywood couple, several wardrobe changes, and even dance performances. Multiple video clips were uploaded from the big day to social media platforms.
Skyh Black and J K Smith wedding is that millennial cringe the kids be telling us about. pic.twitter.com/4TxPwFpd1D

— Sp*zz (@antideezy) September 6, 2023
Wedding performances are not necessarily a new trend, but KJ Smith and her husband Skyh Black did not hold back on the fun. As a former dancer for Beyoncé, Skyh Black showed off some of his dance moves, and his wife danced along.
They also did not hold back on the public affection and let the audience know they were madly in love.
🤍🤍🫶🏾 🫶🏾 #kjsmith #skyhblack #THEBLACKEXPERIENCE pic.twitter.com/mHgM2OZJma

— Zacfatima (@Zacxfatima) September 4, 2023
The newly wedded couple did cause some controversy on social media regarding showing excess skin and dancing provocatively in front of their guests, but they remain unbothered.
What a night…I'm still reeling 🥹💍🫶🏾 #theblackexperience

— KJ SMITH (@kjsmithofficial) September 6, 2023
Some fans love them as a couple, while others feel their wedding was over the top. Here are some comments below.
I keep seeing new videos of kj smith and skyh black's wedding on tiktok and each one is a new performance 😂. No decor or food, just outfit changes and performances.

— a💕 (@somintysofly) September 7, 2023
KJ Smith and Skyh Black wedding day photos and videos is beautiful and lit. Down to the details. #inspired

— . (@tenny_tenn) September 7, 2023
Kj smith & Skyh Black wedding seemed off to me . The vibe and chemistry just seemed forced to me . The love just doesn't seem genuine .

— Mrs.Rogan🌹✍🏽📚 (@Pen_fairy) September 4, 2023