There is a method to a winner's mentality. The long-term benefits always outweigh short-term gratification if you can stay the course. Todd Tucker has managed to stay on course in business and in his relationship with his wife, Kandi Burruss.
"One of the biggest secrets to success is being able to play your role and not letting ego get in the way," says Tucker, an entrepreneur and producer.
For Tucker, who will celebrate 10 years of marriage to Burruss, a noted singer and writer, in less than a year, defying the odds of reality relationships is just one victorious area of his life. Tucker and Burruss, who appear on Bravo's hit series "The Real Housewives of Atlanta," have become the definition of a power couple with numerous successful businesses, including four restaurants and multiple television and movie projects.
They recently struck gold with their joint venture project, The Pass. The movie premiered on Peacock to rave reviews and was a hot topic on social media.
"We had the opportunity to put people that we work with and work for us in the production," Tucker shares.  "That's the best part about what I do. Work is fun and I get to collaborate with creatives I respect."
The hype surrounding The Pass felt ironically like art imitating life. "RHOA" fireball Drew Sidora stars as Nina, a housewife who grants her husband a pass to a night of passion with an anonymous woman of his choosing. The story takes a turn when the wife is seduced by her female supervisor and violates the couple's agreed-upon boundaries. Sidora is currently part of a similar scandal, as it's rumored that she cheated on her estranged husband Ralph Pittman with professional female basketball player Tamera "Ty" Young. Tucker insists he had the idea for the movie before Sidora's relationship struggles surfaced.
"No, I didn't create this movie because of the rumors surrounding Drew," he laughs. "I could show you my notebook from before the pandemic where I came up with the concept, playing around with the idea of how couples would respond to getting a pass. I started working on this years ago."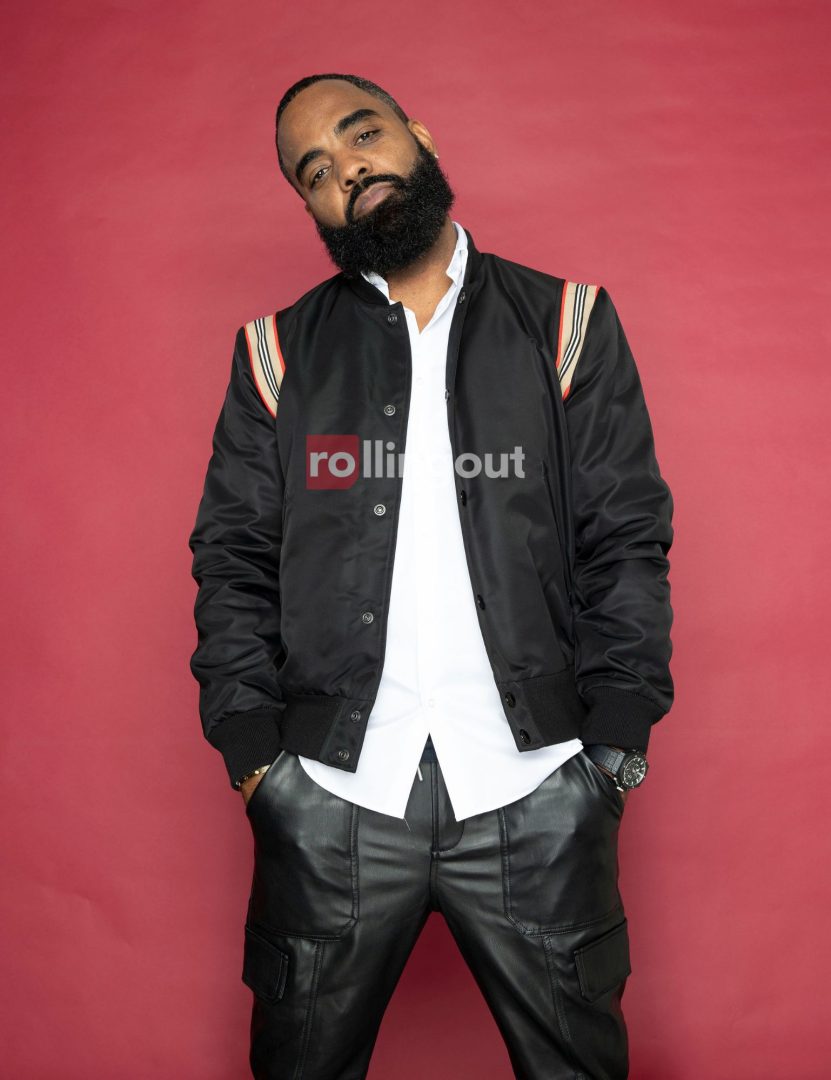 However, he acknowledges that the similarities between the script and Sidora's personal life fueled interest and benefited everyone involved. "My background is in television and production, so I understand how this works, but it wasn't premeditated," he says.
The concept of open marriage and relaxed boundaries in relationships is a topic "RHOA" has explored many times. Tucker insists that he and his wife would never partake in "a pass" because he knows he couldn't handle it.
"I'll be the first to admit, I'm not strong enough to handle something like that. It's not for me. But I think every couple should be able to discuss any and everything with each other; otherwise, what are we doing in a relationship if we can't be honest with one another?" he questions.
Tucker was introduced to "RHOA" audiences years ago as a behind-the-scenes executive who fell in love with music royalty Kandi Burruss.
"From the beginning between the two of us, it was always easy, and it always made sense. I don't pay attention to social media or the outside noise. If they ask us to come back for another season, we'll be there. I mean, why wouldn't we?" Tucker shrugged when asked about the "RHOA" rumors of certain cast members being fired.
Tucker and Burruss have their love for business and entertainment in common, which makes them great business partners and even better parents and lovers.
"My strength is logistics and figuring out budgets and how to ensure a profit. It's the same formula no matter if we are talking about a play, a movie, or even a restaurant. Logistics and structure are keys to being successful in business regardless of what type of business it is," Tucker says.
Tucker appreciates the success of The Pass and is looking forward to the next project.
"If I could give any creatives any advice, it would be to stress the importance of ownership. The [WGA and SAG] strike happening now is important because people deserve to be paid an honest, livable wage for their work. The best way for us to do this is to make sure we are owning our creativity. It will take sacrifice in the beginning because keeping the rights to your work means you won't get the big check up front, but I promise if you stick with it, ownership is always great later," he says confidently.
The Pass is streaming NOW on Peacock.
Photography provided by Sterling Pics
Wardrobe stylist Jeremy Haynes