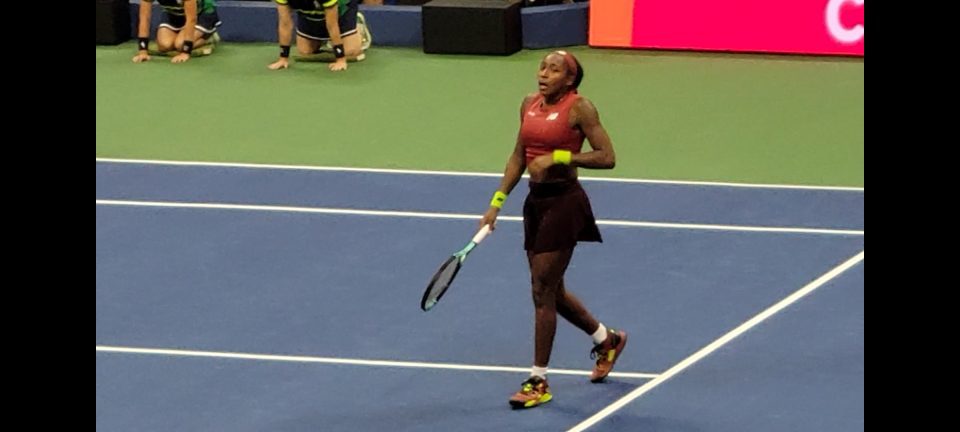 Coco Gauff discusses becoming the first American teen to win the US Open since Serena Williams in 1999, and the sixth Black woman following her 2023 US Open women's championship win over 
"It's an honor to be in that [company] with Althea Gibson, Serena, Venus, Naomi, Sloane," she said. "They paved the way for me to be here. I remember Sloane winning this trophy in 2017. I lost in the junior US Open. It was an inspiring moment for me to see her win because I grew up watching her and I have known Sloane since I was 10 years old. Obviously. Serena and Venus, words can't describe what they meant to me. I hope that I'm a (continuance of their) legacy. I hope another girl can see this and believe they can do it and hopefully their name can be on this trophy too."
Gauff also discussed having to deal with expectations and comparisons to Serena Williams. 
"It's been difficult," she said. "I wasn't a fully developed player, and I still think I have a lot of development to go at the moment. I think people were putting a lot of pressure on me to win. I felt that at 15 I had to win a slam at 15. I think that was, you know, not the mistake because everything led to this moment so there were no mistakes. But that was, like, a little bit of the pressure that I was feeling. Now I just realize that I just need to go out there and try my best. I mean, it was to the point where I remember I lost when I was 17 and there was a stat, they were like, Oh, she's not going to win a slam before Serena's age. It was stuff like that that I felt like I had a time limit on when I should win one, and if I won one after a certain age it wouldn't be an achievement."
Gauff was asked if she wanted "Coco" by OT Genesis to be played after her win.
"No, I did not want them to play that because it does not mean my name," the teenage champion said. "It means something else. But sometimes people in the crowd do say that, and I'm, like, yeah, that's cute, but please no."
Gauff was also asked about words to describe her win, and she mentioned an anthem created by Jay-Z and Alicia Keys in 2009.
"I think the three words I would put it in is "Dreams come true," she said, before mentioning "Empire State of Mind." "There is a song lyric that I want to use for my Instagram caption. It goes, "Concrete jungle, where dreams are made of." Thank you. Yeah, that lyric is true. New York City is the city where dreams are made of."