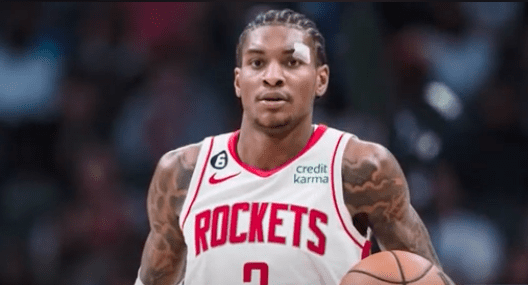 NBA star Kevin Porter Jr. was arrested and charged with two felonies after brutally assaulting his girlfriend, a free agent WNBA player, at a hotel in New York.
The young but frequently-traded player for the Houston Rockets reportedly punched Kysre Rae Gondrezick in the face repeatedly inside the Millennium Hotel, which sits adjacent to the United Nations in Midtown Manhattan, on Monday night, Sept. 11.
Porter, 23, also choked Gondrezick so hard that he broke a bone in her neck, reports NBC4 Washington. She managed to escape once she broke free and ran into the hallway with her face covered in blood, where she was discovered by hotel staff. She had an "inches-long cut" on her face from the punches.
According to the police report, the violent episode popped off after the two had taken in the sights of New York. After the girlfriend returned to the hotel and fell asleep, the publication reports that Porter was locked out of the room and immediately became enraged. Once he gained access to the room, he punched her repeatedly in the face and body.
She was rushed to the hospital but was released that same night, the NYPD added in its statement.
In court on Tuesday, Porter was not required to enter a plea to charges of second-and third-degree assault and second-degree strangulation. The second-degree charges are felonies in the state of New York. 
The Rockets and the NBA released obligatory statements, with the team assuring they are "in the process of gathering information surrounding the matter." At the same time, the league added a similar notice that they were "in the process of gathering more information."
Meanwhile, the victim's sister issued a public threat to lay hands on the wayward NBA player, according to Clutch Points. No word if the sister will face legal consequences. Ironically, the sister issuing the threat is Kalabrya Haskins, the widow of the late NFL player Dwayne Haskins Jr., who died after being hit by a vehicle in the middle of the highway in 2022.
"If you think you gone touch my sister & not get touched. Count ya f**king days."

Kysre Gondrezick's sister takes to Instagram after Kevin Porter Jr.'s arrest. pic.twitter.com/u1wcQFjQ7t

— ClutchPoints (@ClutchPoints) September 11, 2023
The video below shows Porter being perp-walked after his arrest by the NYPD.
MORE VIDEO: Kevin Porter Jr. in NYPD custody following his arrest over the weekend.

📹: @NBCNewYork pic.twitter.com/wVd30MxPZt

— Chancellor Johnson (@ChancellorTV) September 11, 2023
Listen to the full report: