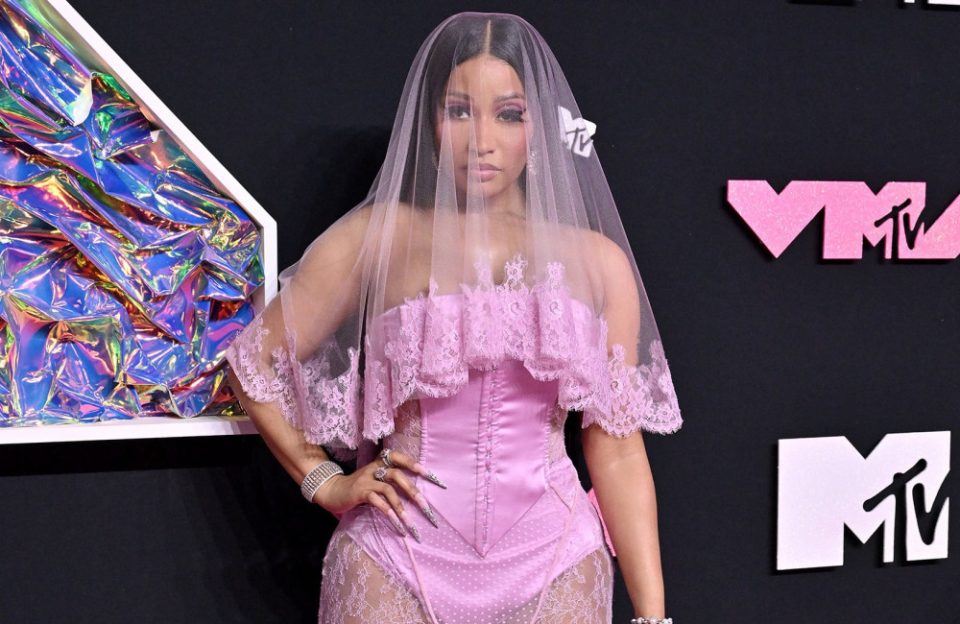 Nicki Minaj has been hailed as a "queen" for being brutally honest about her red carpet wardrobe malfunction at the 2023 MTV Video Music Awards.
The 40-year-old "Anaconda" rapper put on a busty display at the ceremony on Tuesday, Sept. 12, in a Barbie-pink corset paired with a sheer lace veil by Dolce and Gabbana.
After posing on the red carpet, she admitted on stage while hosting the event at the Prudential Center in Newark, New Jersey, "I just realized that one of my motherf—— shoes wasn't buckled properly."
Her complaint prompted the camera to zoom in on her feet, as Minaj referenced MTV executives' concerns about what she might say on stage. "I said, 'It's okay MTV I can control myself because if you can't control yourself, you can't control anything else.'"
She wrote online alongside a photo of her in black leather: "Why would the @vmas let me host this show??? knowing I'm… different… #Vmas see ya on the 12th NEW YAWWWK."
The singer also shared pictures of her look from the evening on social media, captioning the snaps: "DOLCE AND GABARBIE #MTVVMA's."
Many of Minaj's millions of followers flocked online to share their thoughts on her look with many praising her as a "queen" for her honesty.
Minaj changed into a red bodysuit to reunite with her collaborator Lil Wayne onstage at the VMAs for a performance to celebrate 50 years of hip-hop. They joined DMC, Doug E. Fresh, LL Cool J,  and Grandmaster Flash and the Furious Five to perform a medley of rap classics.
The singer also took to the stage for a solo performance of "Last Time I Saw You" and an unreleased song from her upcoming album Pink Friday 2.
She landed the trophy for Best Hip-Hop Video at the awards for a fifth time times – more than anyone else in the show's history.