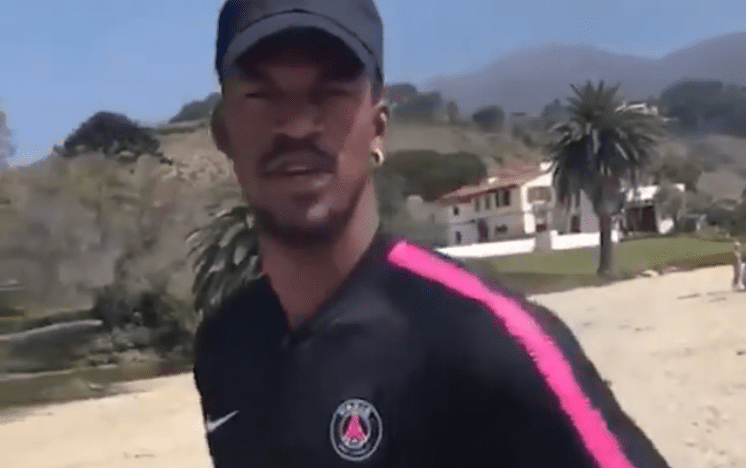 NBA superstar Jimmy Butler is getting destroyed on social media for unveiling a bizarre, Barbie-like hairstyle during the Miami Heat's pre-season media day.
The celebrated NBA forward, 34, was posted up at the Heat Media Day rocking eye, lip and nose piercings and black fingernails, with his normally braided hair straight. 
"This is my emotional state."

Jimmy Butler explaining his new Media Day look

(via @tropicalblanket) pic.twitter.com/9sZhTb0H3J

— Bleacher Report (@BleacherReport) October 2, 2023
When he sat down, Butler addressed the stunned media by saying this was his "emotional state."
"I'm very emotional right now. This is my emo state and I like this. This is me," Butler said. "This is how I'm feeling as of late."
Jimmy Butler's new look for Heat Media Day 😅😭

(via @MiamiHEAT)pic.twitter.com/GIKry8asXM

— Bleacher Report (@BleacherReport) October 2, 2023
Butler even stunned his teammates who got a good laugh out of it.
Bam Adebayo: "The whole lip ring is annoying."

Jimmy Butler: "Look, I gotta stay in character."

Bam: "Sh*t. You get a haircut for Media Day."

Jimmy: "This is my halloween." 😂

(via jimmybutler/IG)pic.twitter.com/CvSIyN50fx

— ClutchPoints (@ClutchPoints) October 2, 2023
Many believe that Butler is disgusted that the Heat brass did not do more to acquire marquee player Damian "Dame Time" Lillard from the Portland Trailblazers. Instead, Lillard was traded to the Milwaukee Bucks to play alongside two-time MVP and NBA champion Giannis Antetokounmpo.
Butler yearned to play alongside Lillard and is emotionally crushed that he went elsewhere for the 2023-24 NBA season. Furthermore, the man who was traded to Portland for Lillard, Jrue Holiday, was quickly traded again to the Boston Celtics, strengthening that squad. Now sports pundits have the Bucks and Celtics as the two best teams in the Eastern Conference instead of the Heat, who went to the 2023 NBA Finals this past June.
This is not the first time that Butler has jarred the assembling media with a unique look. Last year at this time, Butler appeared at the Heat Media Day
Jimmy Butler at media day last year vs. this year 😭 pic.twitter.com/MbG9pD5owa

— Complex Sports (@ComplexSports) October 2, 2023