The year 2023 has without reservation been a celebratory year for all things hip-hop. The genre has evolved into a cultural phenomenon due thanks in large part to a solid foundation of creators, talent and fans that emerged in the '70s but exploded in the late '80s and '90s.
The influence of major music industry figures like Big Tigger — along with the cultural impact BET's "Rap City" had on viewers — defied insurmountable odds. The Black-centric show created by Alvin Joe debuted in 1989 on BET and has been a lifeline and a prime platform for rap artists and fans alike for 19 seasons. In 1999, Stephen Hill, the then-president of Music Programming for BET, changed the dynamic of the show to a studio format and hired a young DJ by the name Darian "Big Tigger" Morgan to host. Hill's creativity breathed new life into "Rap City" and turned the former BET voice-over host Big Tigger into a nationally celebrated ambassador for hip-hop music.
Big Tigger quickly became one of the most credible gatekeepers of the genre. Early in his career, he established a reputation for his innovative freestyles on radio. Raised in the "boogie down Bronx," Big Tigger's clever wordplay and charisma gave him a competitive edge over his competition.
"I'm just a kid from the Bronx that did what kids from the Bronx do. I've been deejaying since I was 15. Back then, I didn't know you could make a career from this or that there was money in it," he says.
After college at the University of Maryland and interning on D.C. radio, he returned to New York as a formidable nighttime radio champion with a reputation for delivering bars. It doesn't come as any surprise that his career would flourish after cosigning hip-hop's best and brightest.
"My job on 'Rap City' was to present artists to the public. Back then, there weren't a lot of other channels or opportunities for exposure. BET was where you tuned in to learn about what was going on in hip-hop culture. 'Rap City' was the perfect marriage for me as a fan of the music, and knowing how to interview and freestyle. It really married things that I was good at — and or really loved," he shares.
Big Tigger acknowledges that when he learned that BET was partnering with Mass Appeal on a three-part documentary titled, "Welcome to Rap City" he was both humbled and proud. The documentary premiered Tuesday, Oct. 10, and depicts the history, evolution and death of "Rap City'" over three episodes.
"If at the end of everything, all I'd accomplished was being a part of 'Rap City,' I'd be fine with that. The thing I'm most proud of is it's celebrated on a T-shirt line I collaborated with Becky Russell on that [features the phrase], 'Rap City Raised Me.'
"I've talked to so many people over the years who shared that their introduction or how they stayed connected to hip-hop culture was through 'Rap City.' People across the country … different people from different backgrounds tun[ed] in at 4 p.m. to learn about hip-hop on 'Da Basement.' I think it was the timing of both 'Rap City' and '106 & Park' that made it so special, and I was blessed to be a part of both of those shows," he says emphatically.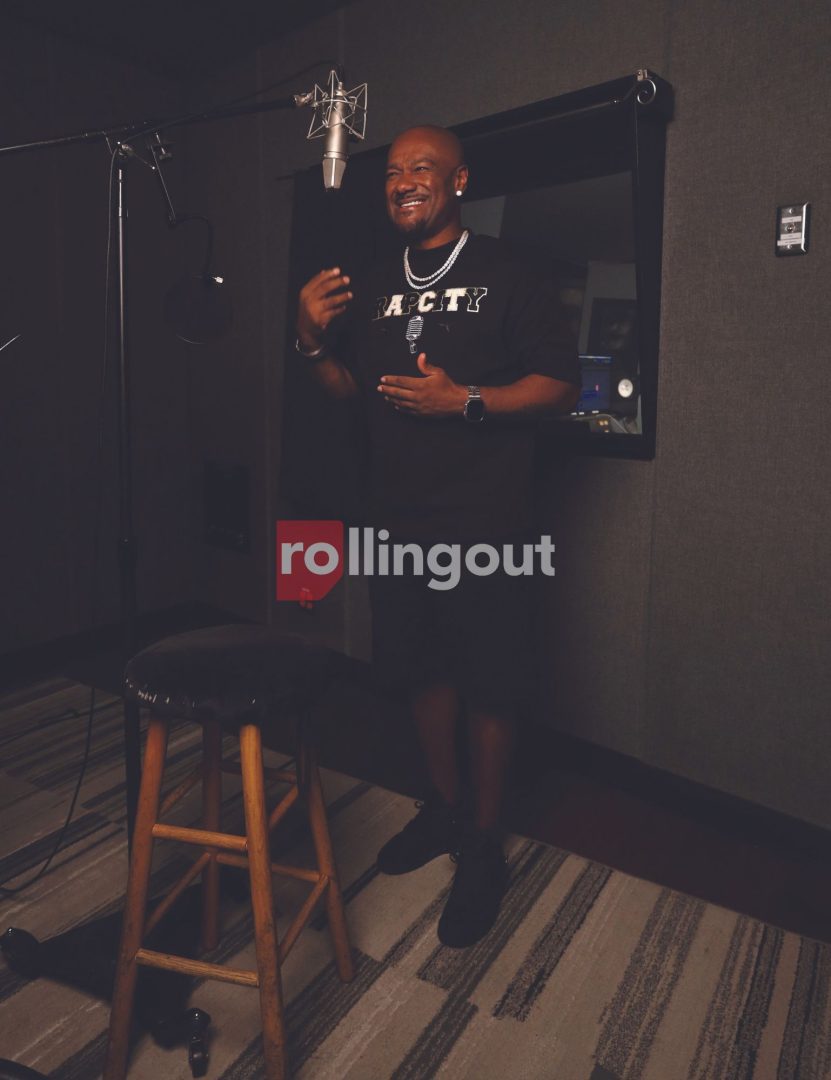 In turn, the Grammy Museum is celebrating with its own interpretation of the genre and the era with an eye-opening historical perspective, "Hip-Hop America: The Mixtape Exhibit."
"It was extremely gratifying for the Grammys to create this art exhibit for people that grew up watching the show to get an opportunity to come freestyle with me in the booth. It's dope and I had an opportunity to contribute to the authenticity and execution of the project and then to connect the dots to this BET documentary and upcoming special, 'Rap City Beyond the Basement,' " Big Tigger says.
The exhibit launched at the Grammy Museum on Sat, Oct. 7, and runs through Sept. 4, 2024.
"I think young people today have a different relationship with music. For them, social media is the culture, and it's changed their relationship with music. For that reason, I don't think they have the same personal connection that we did with music. Growing up, for $9.99 you could get a cassette tape that you had waited and stood in line for, today for $9.99 you can get two million songs on any streaming service," he says, and then laughs.
Big Tigger is proud of his contribution to the genre that turned 50 this year, and as the host of V103's "The Big Tigger Morning Show" he remains close to the culture that made, raised and paid him.
"I can honestly say I'm just as in love with the hip-hop that raised me as I was as that 15-year-old kid from the Bronx deejaying just for the love," he says.
Welcome to Rap City is available on BET.com and BET's YouTube Channel. The series features Jermaine Dupri, Da Brat, Fabolous, Shanti Das, KP Da Great, and many more.
Cover photo credit: Ayanna Martin
Inside credit: Daerae Media