Darius Jackson denies Keke Palmer's inflammatory accusations that he beat her consistently over the course of their relationship.
In fact, Jackson's mother claims it was Palmer's mom who threatened to put a bullet in his head.
"TMZ" reports that their latest blowup had to do with shared custody. He reportedly texted Palmer his intentions to pick up their son, Leo, and take him to a football game. However, when Jackson arrived at the home, the child was not there, sparking an argument.
At some point, Palmer got her mother, Sharon, on the phone, who proceeded to reportedly cuss Jackson out in defense of her daughter.  She also allegedly said that she would shoot Jackson in the head, which prompted a strong clapback from Jackson's mother.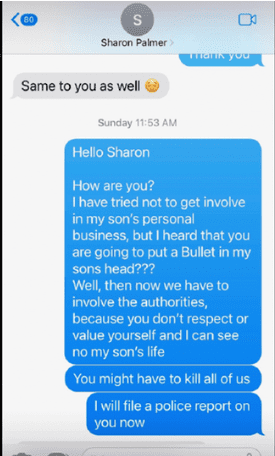 Along with the adamant denials of abuse, "TMZ" reports that Palmer called authorities one time while he was allegedly abusing her. However, when the cops arrived on the scene, they found no evidence of violence. In fact, the police didn't even bother to fill out a police report.
As has been reported, Palmer successfully filed for a restraining order, which mandates that Jackson keep a distance of 100 feet from her at all times. She also obtained full custody of their son, Leo, until Palmer's next court appearance on Dec. 5, 2023 at which time the court will decide whether to make the restraining order and custody permanent.