While Keke Palmer's ex-boyfriend Darius Jackson is embroiled in his alleged domestic violence case, his brother Sarunus is entangled in his own domestic situation with the mother of his child.
Sarunus Jackson, who rose to prominence via the iconic "Insecure" series that stars Issa Rae, is accused of "intimidation" and exhibiting "emotional volatility" as he fights for shared custody of their daughter.
Recently, Sarunas J. Jackson filed a "Petition to Determine Parental Relationship" against actress and former co-star DomiNque Perry in order to see their child Zen at regular intervals. He is also trying to block her move from Southern California to Texas because it would inhibit his ability to see the child on a regular basis.
According to court documents obtained by RadarOnline, Perry countered Jackson's claims, that she has never denied him the right to see their daughter, despite his proclivity to try to manipulate her through toxicity.
"Despite the emotional volatility and intimidation that [Sarunas] has directed toward me, [I've been committed to] fostering a positive co-parenting relationship with [Sarunas] because I know that is in Zen's best interest."
She adds that "[Sarunas] has never been denied the opportunity to be involved in our daughter's life in any capacity he desired."
Perry says she's always been the primary — if not sole — caretaker to Zen.
"While pregnant, I returned to Texas to deliver Zen. Zen was born in Houston, Texas. I maintain a home in the state of Texas and Texas is where I spend the great majority of my time. And because I have always been Zen's primary caregiver, Zen travels with me and has exclusively lived with me making her permanent home in Texas as well."
Citing her inability to be able to afford her Los Angeles-area home, she told Jackson of her intent to move to Texas.
Perry also asserts that Jackson would no longer be able to properly rear their daughter due to his rising fame in Hollywood with "Insecure" and "Rap Sh!t" shows.
"Because [Sarunas] has attained a certain level of success in his career, he generally works and has to travel even more than I do. I am concerned with whom Zen may be left within the face of his extended absences," she reportedly wrote in the legal filing.
Some may recall that Sarunus Jackson left a cryptic tweet — since deleted — that most believe was aimed at Keke Palmer when she filed for a restraining order against his brother Darius.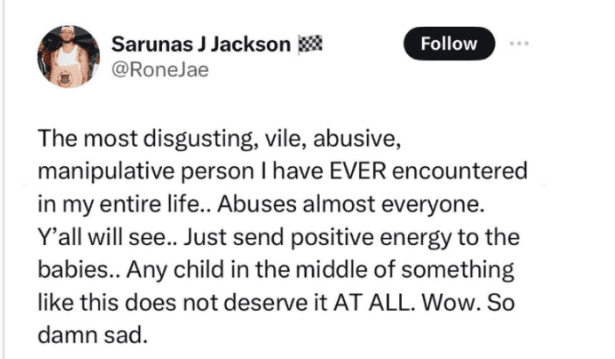 A judge sided with Palmer and gave her sole temporary custody of their eight-month-old son, Leo, with a follow-up hearing on Dec. 5. In the interim, Darius Jackson has been ordered to stay 100 feet from Palmer.