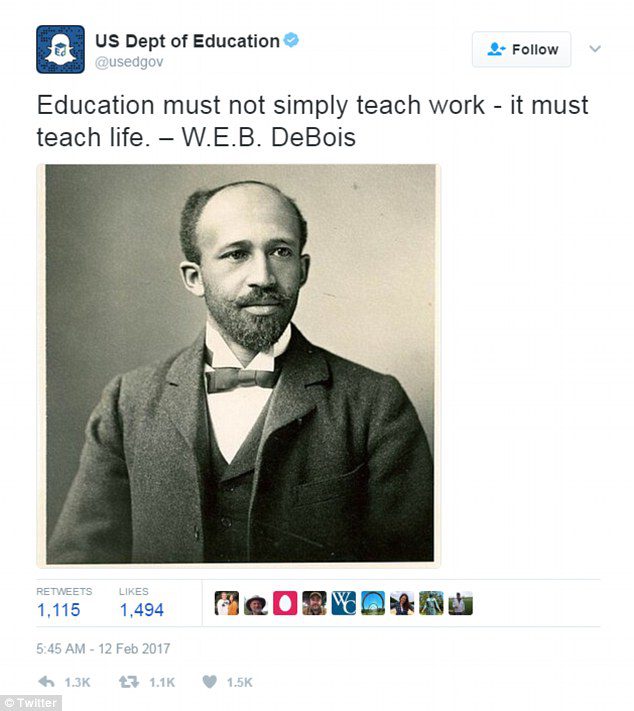 The U.S. Department of Education has been posting links and quotes that pay tribute to icons in celebration of Black History Month. Today, Sunday, Feb. 12 was W.E.B. Du Bois' turn to be recognized. But no one took the time to spell check and they misspelled his last name.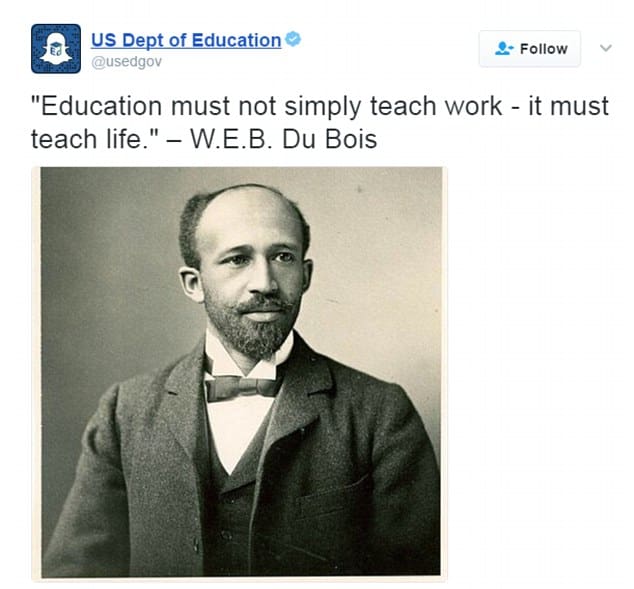 In a tweet this morning, they wrote: "Education must not simply teach work – it must teach life. – W.E.B. DeBois."

Former first daughter Chelsea Clinton has been quite vocal this year about the new administration. She called out the mistake on Twitter and queried: "Is it funny sad or sad funny that our Dept. of Education misspelled the name of the great W. E. B. Du Bois?"
Political pundit Keith Olbermann added fuel to the fire, tweeting: "Thanks, Betsy DeVos. His name is W.E.B. DuBois. And to anticipate your next illiteracy, no, you don't pronounce it 'web.' #DeptOfUneducation."
Betsy DeVos was confirmed the department's new secretary to the dismay of every single Democrat who voted against her along with two Republicans – Lisa Murkowski of Alaska and Susan Collins of Maine.

The department posted the Tweet at 8:45 a.m. but didn't correct the mistake and send out a new tweet until 12:14 p.m. – however in the first message apologizing for the error it made another mistake by giving its "deepest apologizes for the typo."
The original blunder has been retweeted more than 1,250 times.
William Edward Burghardt Du Bois was the first African American to earn a doctorate from Harvard University and co-founded the NAACP in 1909. He was an accomplished professional who served as an American sociologist, historian, civil rights activist, Pan-Africanist, author, and editor. He passed away in 1963.