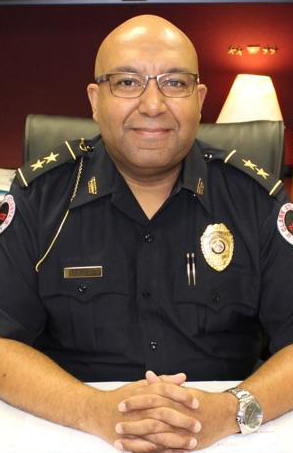 Clark Atlanta University (CAU) President Ronald A. Johnson and CAU police chief Joe Little announced on Wednesday, Feb. 15, 2017 the appointment of the CAU Police Department's new deputy chief, Randell C. Robinson, a decorated Atlanta Police Department (APD) veteran who brings more than 30 years of expertise to the historic campus community. He joined the Department February 6.
Deputy chief Robinson, who retired as major from the Atlanta Police Department in 2014, is accomplished law enforcement professional with specialized competencies in security and emergency management, criminal investigations and proceedings, surveillance and search procedures, crisis intervention, field intelligence and community policing. His vast skill set also includes conflict resolution, diffusing intercultural hostilities, training and team building.
"We are very fortunate to have a professional of Randell Robinson's integrity, professional experience and compassion for others joining our ranks," Little says. "He began his career in 1985 as a patrol officer, responsible for Zone Three crime prevention, protecting citizens and their property. He brings that same mindset to CAU. Even more important, he is a proven leader who emphasizes education over apprehension." Robinson, for example, created and implemented the Atlanta Citizens Police Academy, designed to familiarize community leaders with APD operations, which still exists today. "He is a natural bridge-builder," Little adds.
"I am excited about the opportunity to be part of the Clark Atlanta University Community," Robinson says. "I have long respected the University's record of scholarship and, as someone who has worked extensively in the community, I know well the foundational role that Clark College and Atlanta University have played in supporting and uplifting people across the street and across the nation. Times have changed, of course, so I want to ensure that this tradition continues unimpeded by issues associated with crime, public and personal safety."
In addition to serving as a Zone Three patrol officer, Robinson also served as part of Atlanta's Hartsfield International Airport K-9 Bomb Detection Team from 1985-1993. From 1993 to 1999, he served as sergeant of APD's Field Operations Division, promoting community policing in Atlanta's public housing developments. He also trained police recruits. From 1999 to 2010, he served as lieutenant, working as assistant Zone Two commander to establish relationships and coordinate activities with citizens, businesses and government agencies. He also served as school detectives commander, addressing public safety concerns for all of Atlanta's public schools. As criminal investigations commander, he managed the commercial robbery, major fraud, pawn desk and auto theft task force units. As lieutenant, he also served as Homicide, Adult Missing Persons and General Investigations Unit commander, and oversaw investigations in the Sex Crimes Unit, where he organized and participated in meetings to disseminate intelligence and prevention information in high-incidence areas. In 2010, Robinson was appointed captain and was responsible for managing daily administrative law enforcement personnel in Zone Two and the Airport Section, coordinating operations with local, state and federal partners.
He was appointed Major in 2011 and became the commander of the Special Enforcement Section, managing 169 employees responsible for Homeland Security, Targeted Gang Enforcement, Atlanta's High Intensity Drug Task Force, and Licensing and Permits. He also managed APD personnel assigned to local, state and federal task forces, including the FBI's Joint Terrorism Task Force, the U.S. Marshals Southeast Regional Gang Task Force, the Drug Enforcement Task Force, Immigrations and Customs Enforcement, Alcohol, Tobacco and Firearms, and Fulton County's Burglary Task Force.
In his last year with APD, Deputy Chief Robinson commanded APD's Major Crimes Section where he managed 140 employees across units, including: Homicide, Missing Persons and General Investigations, Special Victims, Fugitive, Major Fraud, the Auto Theft Task Force and Commercial Robbery units. Crime Stoppers of Greater Atlanta, sponsored by the Atlanta Police Foundation, also was under his command.
During his career, he received a City of Atlanta proclamation for successfully investigating and arresting an individual responsible for a 17-year-old's death. He also was recognized for personally capturing a rape suspect and, subsequently, for personally responding to and locating the perpetrator of a fatal police shooting.
Deputy Chief Robinson earned his Associates of Science degree in Criminal Justice from Georgia Military College, as well as the Bachelor of Applied Studies in Organizational Leadership from Mercer University. He graduated from the Georgia Law Enforcement Command College at Columbus State University, where he also earned his Master of Public Administration. He also completed the Rising Star Leadership Development Program at Clark Atlanta University, and is a member of the Georgia Association of Chiefs of Police.