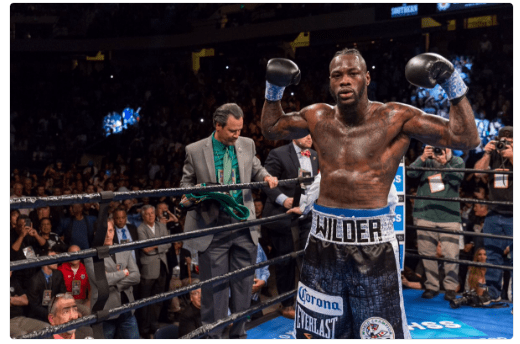 Deontay Wilder is part of boxing's new revolution. The current World Boxing Council heavyweight champion is making himself the face of boxing's new heavyweight division, a weight class which was forgotten about for many years. By the mid-2000s, legends such as Mike Tyson, Lennox Lewis, Evander Holyfield, Hasim Rahman, Chris Byrd, and George Foreman (after his second run) had walked away from the ring. While aging fighters such as Shannon Briggs, Francois Botha and John Ruiz continued to fight well past their primes and didn't draw the way they used to. It was during this time that the Ukrainian Klitschko brothers, Wladimir and Vitali, stormed onto the scene and took the reins of the division.
The brothers would go on to dominate the weight class for roughly the next decade. And while they racked up victories (combined 109-6 record) and grabbed every major championship along the way, the Klitschko brothers' act eventually grew stale with North American boxing fans. The pair found immense success in Europe while North American fans shifted their attention to smaller fighters or switched to other combat sports like mixed martial arts. But over the last few years the heavyweight division has seen a resurgence. A crop of fresh fighters, including Wilder, has brought attention back to the division.
"The Klitschkos made it boring, they know that," said Wilder about the division's down years.
Helping matters is the fact that Vitali Klitschko has retired and entered Ukrainian politics, while Wladimir has been caught up in the crop of new contenders. Deontay Wilder (38-0, 37 knockouts) is arguably the most mainstream fighter of the current heavyweight class. But others such as Luis Ortiz, Anthony Joshua, Bryant Jennings, Tyson Fury (before his health issues), and Chris Arreola have also played their part in the heavyweights resurrection. But Wilder, who strongly idolizes Muhammad Ali, has his own plans for greatness.
"It feels good, it feels really good," Wilder said about bringing his weight class back to prominence. "I just want to bring the heavyweight division back to where it's great again."
The 31-year-old Alabama native seemed destined for greatness from the start. After winning the 2007 National Golden Gloves heavyweight crown, Wilder set his sights on the Beijing Summer Olympics in 2008. At the Olympics Wilder made it all the way to semifinals before losing to Italy's Clemente Russo, he hasn't lost a fight since then. After claiming the bronze medal (hence the nickname "The Bronze Bomber"), the 6-foot-7 inch right-hander turned pro shortly afterwards. He made his pro debut in November of 2008 and has made quite the career for himself.
"I'm just happy to be part of (the heavyweight) movement," Wilder said about his success. He won the WBC's coveted "Big Green" belt in January of 2015 after defeating Haitian Bermane Stiverne by unanimous decision. To this day it's the only fight of his career to be decided by the judges. Since then he has successfully defended his title on five occasions. He previously held the WBC Continental Americas heavyweight championship.
His title reign, however, was nearly derailed last year. In July of 2016, Wilder soundly defeated Chris Arreola on national television as the fight was stopped in the eighth round after Arreola took a barrage of repeated punches. Despite the victory, Wilder sustained two very serious injuries. A broken right hand and a torn right bicep put Wilder out of action for the remainder of the year. There was legitimate concern as to whether the WBC would allow Wilder to remain champion while he recovered from the subsequent surgeries.
The interesting part about those injuries is that Wilder knew something was wrong with his wrist but didn't find out about the bicep until afterward … "When I broke my hand I felt numbness and my hand started to swell up. I knew instantly what I had done," he said. "But the torn bicep was a new experience for me, my arm felt like it was just hanging there. As I was punching it felt like my arm wanted to loop instead of punching straight. I almost had the slight feeling that I had to stop [the fight], but that's when my warrior mentality kicked in."
His warrior mentality also aided in his recovery as he resumed full training by November. He was initially set to return to the ring against Andrzej Wawrzyk of Poland but that was thrown out the window when Wawrzyk failed a drug test. Instead Wilder defended his belt against Gerald Washington (18-1-1) back on Feb. 25 and won by knockout in the fifth round. Deontay Wilder is proud to be the WBC champion, and he's ranked the No. 2 heavyweight by Ring Magazine, and No. 3 by both ESPN and Sky Sports.
Wilder says "we have a lot of options on the table" when it comes to deciding on his next opponent, but his ultimate goal like any fighter is to be the undisputed heavyweight champion of the world.
"My main and ultimate goal is to unify the division," Wilder says. "Once I have all of the belts, No. 1 and No. 2, guys, let's go! All of the mandatory [challengers], let's go! Once I unify, all of the names that [are] up-and-coming and all of the names people want me to see will be more realistic to happen."