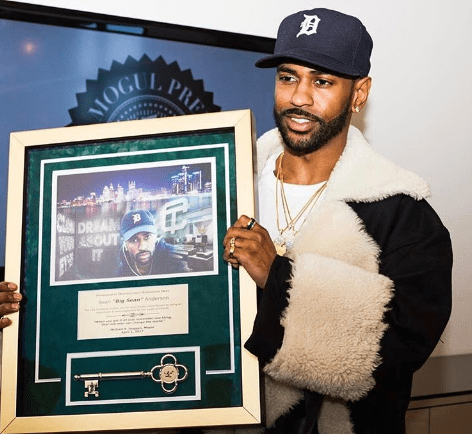 Thus far, 2017 has been a great year for Grammy-nominated recording artist Big Sean thus far. He's found love with long-time friend Jhene Aiko, landed at No.1 on the Billboard chart and now he's receiving a special honor in his hometown of Detroit.
On Saturday, the hip-hop star was presented the official key to the city of Detroit by Mayor Mike Duggan along with 100 metro area students. Sean is also the youngest person to get the key to the Motor City. "Sean, this is your reminder that every time you leave Detroit, you can always bounce back," Duggan said in a report from WXYZ News.
The Detroit native has been very active advocating for the importance of kids obtaining a proper education and Duggan wanted to acknowledge him for his efforts.
Sean was also awarded a check for $110K from Rock Ventures and Quicken Loans. The donation will be used to help kickstart his Mogul Prep program, which helps students explore career opportunities in the entertainment industry. Sean says he plans to apply the funds to the Detroit Public Schools this fall: