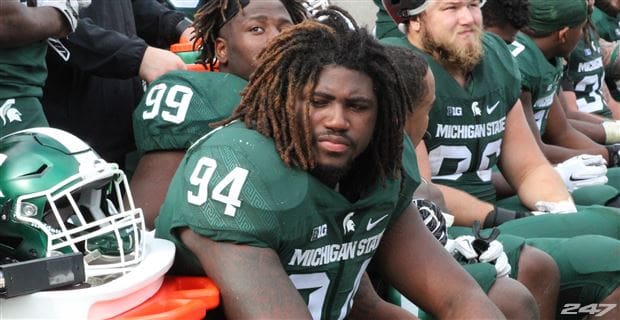 Coming off a horrible season, Michigan State football has been hit with yet another sexual assault scandal. In a headline ripped from a bad tabloid, former Michigan State defensive end Auston Robertson was recently arrested for criminal sexual conduct after being accused of sexual assault.
Robertson was taken into custody at his childhood home in Fort Wayne, Indiana, shortly after police issued a warrant for his arrest. The victim alleges that after offering to walk her home from a party, the 19-year-old sophomore raped her on April 9, in her Meridian Township apartment. The two had recently become acquainted before bumping into each other in East Lansing, so she thought nothing of allowing him to escort her home after a night of partying and dining out with Robertson and his friends.
Once the allegations became public, it didn't take long before the four-star recruit was given the boot. Michigan State head coach Michael Dantonio made it clear that due to this heinous allegation, Robertson was no longer welcome on the team. This makes the second time the troubled student-athlete has been caught up in a sexually related offense. While still in high school, Robertson got slapped with a misdemeanor battery charge for inappropriately touching a female student and prior to that, criminal mischief, defacing property as well as resisting arrest. All charges were later dropped. According to Mlive.com, MSU was in full support of Robertson pursuing his athletic career and education with the Spartans upon his satisfactory completion of the pretrial diversionary program he entered. Third-degree criminal sexual conduct, however, is where the university drew the line.
Dantonio has stood firm on the athletic department's stance on sexual assault, citing that it is unacceptable and has no place in MSU Athletics.
"The core values of MSU Athletics are clear, consistently communicated and non-negotiable. Among them are respect for self and others, accountability for actions and choices, and integrity. Sexual assault is unacceptable, and members of MSU Athletics who fail to uphold our standards for creating a culture that is safe, supportive, and responsive to those affected by it will be held accountable. My expectation of all members of the department is full and complete cooperation with all investigations," Dantonio said in a statement. "We have a strong athletics program at MSU, one based on values, traditions, and an understanding that as Spartans we are part of something bigger. Our promise to current and future student-athletes and to the entire Spartan community is to take the steps necessary, based on the facts determined through [a] thorough review, to run this program according to the highest values and standards."
Ex Dallas Cowboys player sentenced for sexual assault
Michigan State has a track record of exercising zero tolerance when it comes to off the field misdeeds. Earlier this year, three unidentified Spartan football players and the director of football recruiting, Curtis Blackwell II, were all immediately suspended following being implications of their possible involvement in a sex crime. While there has been criticism from some regarding Dantonio's delay in issuing a statement concerning the allegations, the university's cooperation with authorities and vow to create a "culture of accountability" are like a breath of fresh air in a society that glorifies rape culture. MSU, like other college campuses, still has a long way to go with addressing the misogyny and sense of entitlement by student-athletes toward women. But their removal of Robertson in conjunction with multiple player suspensions surrounding sexual assault is a step in the right direction.
Both incidents remain under investigation and serve as a reminder that sexual assault allegations and how universities address them continue to be a serious problem — not just at Michigan State — but on college campuses everywhere.