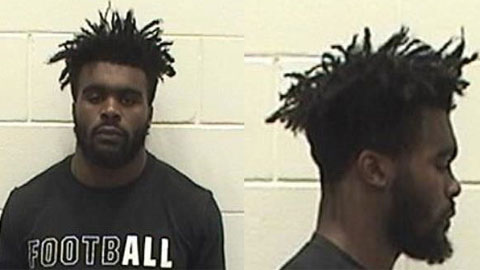 The son of boxing legend Evander Holyfield found himself in trouble with law enforcement this week. Elijah Holyfield, a running back at the University of Georgia,  was arrested for misdemeanor charges of possession of drug-related objects and marijuana possession, less than 1 ounce and use of drug related objects. Holyfield was booked into the Athens-Clarke County Jail at 3:19 a.m. and released at 4:08 a.m. under a $4,050 bond.
A resident director of a UGA dormitory reported that a strong order of marijuana coming from Holyfield's room. A request was made to search the room and Holyfield refused, the refusal led to a search warrant being issued. When UGA police searched the room, they discovered marijuana in the room and on the ground outside the dorm window. Holyfield told law enforcement how the pot was in his room.
Now Holyfield, a sophomore, faces a one-game suspension because of the drug arrest.
The UGA football team has consistently been involved in scandals with many of its young players. Most famously, Isaiah Crowell, who now plays for the Cleveland Browns, ultimately had to leave UGA after repeated instances of marijuana possession and weapons charges. His cousin, Quintavious Harrow, a fellow UGA football team member, was also involved in the incident that occurred in 2012 that resulted in both young men being suspended from the team. Both Crowell and Harrow are from Columbus, Georgia, and graduated from Carver High School. While Crowell remained out of trouble and transferred to another school, Harrow found himself incarcerated in relation to armed robberies in the Columbus, Georgia, area.
UGA has released no further information on the Holyfield arrest and whether or not he will be suspended for a game that is to be played on Sept. 2, 2017, against Appalachian State.