Rob Kardashian slams claim that Dream was conceived out of spite
As America's most famously dysfunctional and wealthy family, the Kardashian clan have been embroiled in multiple scandals with each other as well as those attached to the family.
Rob Kardashian, in the latest scandalous chapter, is blasting claims that his baby girl was conceived as part of an anti-Kardashian plot.
Everyone knows that after Rob Kardashian got engaged to and had a baby with Blac Chyna in less than a year, many questioned Chyna's real reason for getting attached to Rob. Was it because she was truly in love with him or was she getting back at the Kardashian clan, and Rob's little sister Kylie Jenner in particular? Blac Chyna used to date rapper Tyga, but he soon dumped Chyna and got with Kylie. Tyga and Kylie even went so far as to fly to Europe to engage in sexual congress because Kylie was under 18 at the time, fornication with a minor being illegal in California.
Chyna was devastated and humiliated by the Tyga-Kylie tryst, and some speculate that she has never gotten over being dumped so publicly. Hence, the constant questioning of Chyna's motives. At one time, Rob's older sisters – Khloe and Kim Kardashian – tried to intervene in his and Chyna's blossoming romance and convince him that Chyna was up to no good.
And as rumors continue to swirl that Chyna got with Rob Kardashian to get revenge at his little sister Kylie, Rob Kardashian wants to make one thing clear: the birth of baby Dream Kardashian was not part of a spiteful scheme.
When gossip page TeaTenders posted a picture of Dream on their Instagram with a caption about Chyna "winning the battle against Kylie", Rob Kardashian jumped into their comments section to set the record straight.
"Nobody brought a baby into this world out of spite," said Rob Kardashian, who also called it "disrespectful."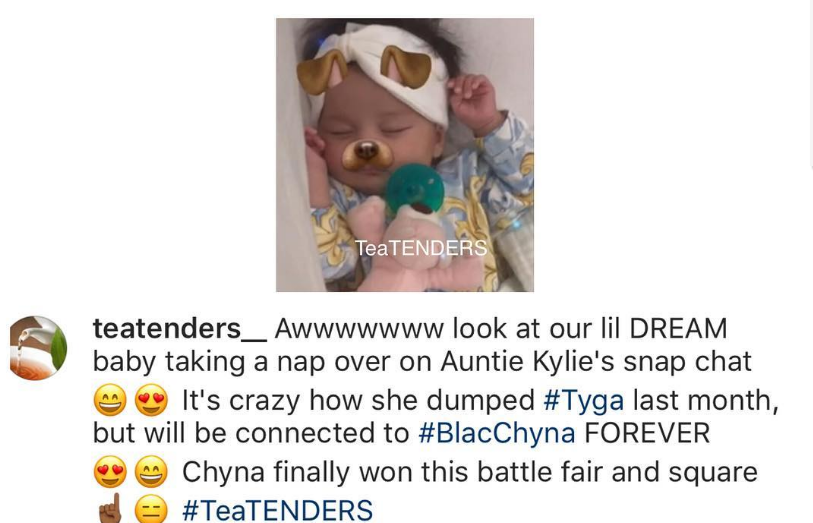 What do you think? Do you believe that Chyna successfully got back at the Kardashian-Jenner clan, or do you think that she really loves Rob Kardashian?