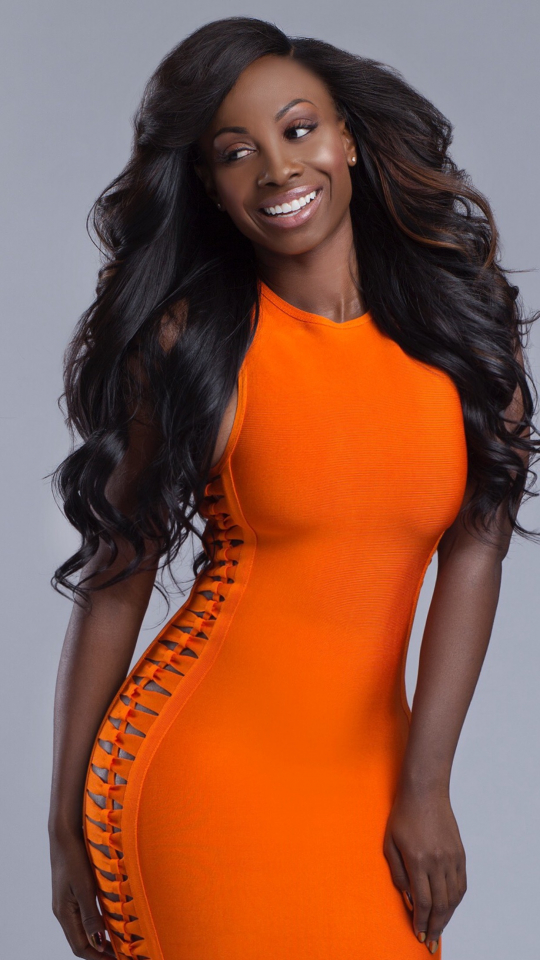 Kendra G is one of the most recognizable radio personalities in Chicago. Her voice is powerful and her influence is vast. She is a combination of beauty, humor, compassion and intelligence. Recently, Kendra has been branching out into television and stand-up comedy. We talked to her about her career, what motivates her and why breast cancer is such an important issue to her.
Talk about what inspired you to become a radio personality.
I went to college at Hampton University. When I was a junior, a lot of my friends who were seniors, graduated and didn't have jobs. I became nervous which inspired me to be focused my last year in college. I researched what I really wanted to do and I loved MTV's VJs such as Carson Daly. He began his career in radio and that inspired me to go into radio since the end goal was to be on TV like him.
I auditioned to be on my school radio station but I didn't make the cut to be on the air. I started as a board operator/producer. My opportunity came when one of the on-air personalities didn't come in and they needed someone to fill in. Since I knew how to work the board, I filled in that day and the program director heard me. He gave me the chance to be a radio personality for the station because I did a great job. And I've been on the radio ever since!
Now you're venturing into television and comedy. What made you do this?
Television was always the goal. When I research people that are on TV, they started on radio. I really got serious about TV when my mother passed in 2012. I began my TV career with FOX's "Good Day" in Philadelphia when I reached out to an anchor on the show. The anchor gave me an entertainment segment to do and that's when it manifested into a weekly segment.
Comedy was an idea given to me by a producer at the E! Network when I lived in L.A. I was doing a lot of work with E! at the time and they always paired me with comedians. One day I asked the producer why did they always pair me with comedians because I'm not a comedian? The producer was shocked and told me I should defiantly do stand-up comedy. I was in denial but it took me three years to get the courage to do it and I love it now.
What are some of the challenges that exist as a Black woman in your industry?
It's the same challenges as being a black woman period. I don't look at anything as a challenge though. I love being a black woman! I love even more being a dark skinned woman! I never looked at my complexion as a hindrance. I just work and go after what I want and I always believe that I am good enough for the job.
You are hosting "Wisdom's Amazing Race." It's an event that supports those impacted by domestic violence, lupus and breast cancer. Why was this important for you to be a part of?
Breast cancer hits home because my mother passed away from breast cancer in 2012. My life changed forever at that point. I felt when she died, a part of me died and another part was being rebirth[ed]. The part [that was reborn] was fearless. I'm glad to share my story and inspire others to get tested annually.
What would you say has been the most memorable moment of your career thus far?
As a young girl, I was really obsessed with Janet Jackson. So I'll have to go with the moment of finally meeting Janet Jackson. This was early in my career but meeting her was like, "wow anything is possible."
I cried so hard when I met her. Before even being on radio and television I wanted to meet Janet Jackson and because of radio, I was finally able to do that. Meeting her made me believe I can do anything because she has accomplished so much.
What words of encouragement do you have for young women looking to follow in your footsteps?
There are no shortcuts! Don't ever let beauty be your strongest asset. Let it be your weakest and your work ethic be your strongest asset. Meet as many people as you can and network with all of the hustlers. Don't be jealous or envious and support as many women as possible because the energy you put out will be the energy you get back.
So this is not an actual race, there's no need to be in tip-top shape to participate, correct? Can you share with me what participants will be doing on Oct. 1 in order to win the grand prize?
Correct, there's no need to stress over the physical demands of this event. It's really low impact in that regard. The "race" is more of a test of your intellectual agility. Participants will be embarking on the ultimate scavenger hunt across the city. They will be discovering facts related to the three causes. They will also be uncovering little-known history about our great city through a series of clues and tasks that will ultimately lead them to the finish line.
Where can people sign up to participate or get involved as a volunteer?
Signing up is really easy. Just go to www.wisdomsamazingrace.eventbrite.com. You can register your teams there or sign up to volunteer. They are still looking for great people who are willing to volunteer.