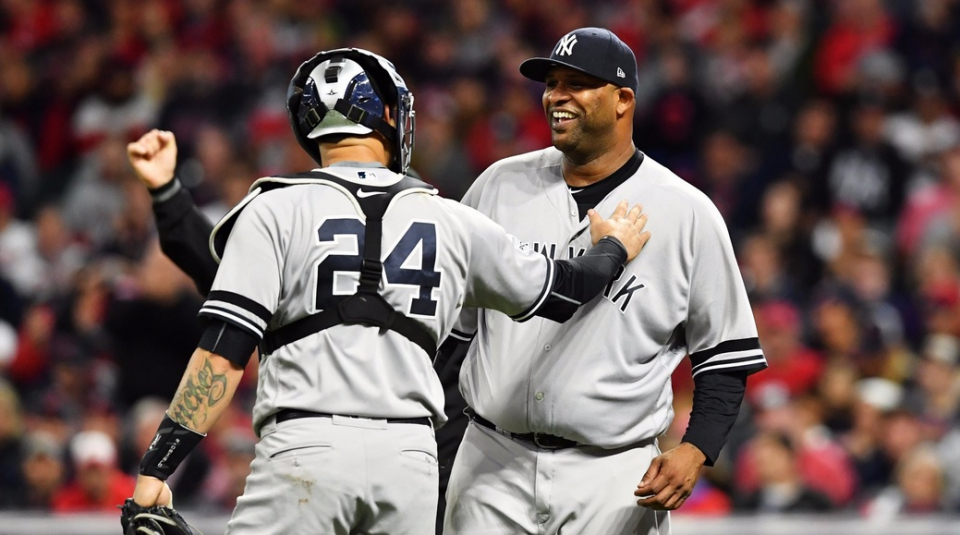 New York Yankees pitcher C.C. Sabathia is still earning wins in series-deciding games. The 37-year-old left-hander only threw for four and a third innings in Game 5 of the ALDS series against the Cleveland Indians, but his allowing only five hits and two earned runs were enough to finish the job. Earlier in the series, it appeared that New York was absolutely done. The Yankees trailed Cleveland 0-2 after blowing an 8-3 lead in Game 2. Club manager Joe Girardi was booed back home in New York for Game 3 after admitting he should've challenged a couple of plays in Game 2.
In short, the Yankees were done and the way they were about to get eliminated was very ugly.
Coming into the season, New York had very low expectations on the pinstripes for the first time in a long time. Instead of throwing money at every big name in the league, the team decided to start building its farm system. The former Fresno State outfielder Aaron Judge was selected in the first round in 2013 by the Yankees. His rookie regular season only ended in having the second-most home runs in the league with 52, just behind the Miami Marlins Giancarlo Stanton. After winning July's home run derby and the hearts of Yankees fans, it appears that Judge has filled the team's "star void" that Derek Jeter left them with in 2014. The early success of Judge and a playoff appearance were already bonuses for the club this season. A wildcard win and now a win in the ALDS spoils Yankees fans even more in this rebuilding process as they now face the league's third-best Houston Astros for a chance to return to the World Series.
Cleveland was coming off a heartbreaking World Series this season. In 2016, the team led the Chicago Cubs 3-1 in the championship series before losing in the extra innings of Game 7 and ending a drought that lasted for over a century for the Cubs. The team returned with a vengeance on its mind and had one of the longest winning streaks in league history with 22 consecutive wins back in September. The team ended up winning 27 out of 28 games in that impressive span and many expected the team to rise to the occasion in the postseason to complete its comeback tour. This loss is just another disappointment for the city of Cleveland's sports fans.