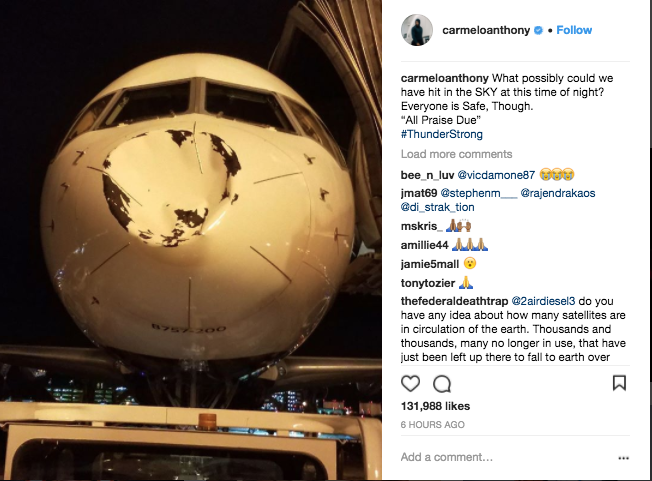 OKC's Steven Adams was on a chartered plane with his teammates, a Boeing 757-200, when it crashed into something mid-flight. They were 30Kfeet in the air. The New Zealand-born NBA star posted a picture of the plane's dented nose after landing, captioning the image, "rough flight to say the least."
The Minnesota Timberwolves defeated the Oklahoma City Thunder on Friday evening, 119 to 116. The defeated team was headed to Chicago's O'Hare International airport early Saturday morning and landed at 1:30 a.m. CST.
At press time, we're not sure if it was really a crash with an unidentified flying object (UFO) or if the nose simply collapsed due to the air pressure.
Seeking answers, Adams called on the expertise of Neil deGrasse Tyson and Bill Nye to figure out what caused the damage to the plane, writing, "What caused this?"
Carmelo Anthony also shared a photo of the plane on his Instagram account, asking "What possibly could we have hit in the sky at this time of night?"
A spokesman for Delta Air Lines said of the chartered plane, "The aircraft, a Boeing 757-200, landed safely without incident; customers have since deplaned and maintenance teams are evaluating. Safety is Delta's top priority."