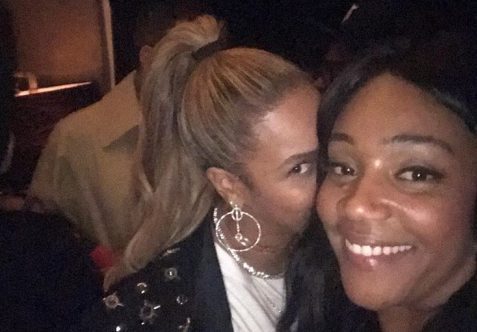 Beyoncé caused a stir following the release of her rapping over the trap song, "Top Off." The song, executive produced by DJ Khaled and featuring Jay Z and Future, featured a Beyoncé verse where she allegedly blasted Tiffany Haddish for giving details about an incident that occurred at a party.
"I was talking to Jay Z for a little bit," Haddish said. "And there was another actress that was there who was also talking to Jay Z. [The actress] touched Jay Z's chest and Beyoncé came walking up like…'B–!' But, she didn't say that."
Many think that Beyoncé responded to the verse by rapping:
"Two deep, it's just me and Jay, Just posted in them courtside seats, Woo! I'm like hol' up, Woo! I might roll up, If they're tryna party with the queen, They gon' have to sign a non-disclosure."
Tiffany was made aware of Beyoncé's verse and decided to give her reaction to allegedly being dissed.
"I love Beyoncé part! Everything she said rang so real to me. Just know I will sign a non-disclosure agreement any day for Beyoncé."
The jokes are funny, but real talk. It's no need to drag Tiffany Haddish. She didn't talk bad about Bey. She's a comedian, and sometimes they over react when they tell a story just like Kevin Hart lmfao.

— Brittany (@LaShawnCoop) March 2, 2018
@TiffanyHaddish presented Beyoncé in a realistic and positive light. I don't care if my man is worth $1,000 don't touch him. Nothing was wrong with her story … #TopOff

— jazwiththeglasses (@jazwitdaglasses) March 2, 2018
Tiffany Haddish really got herself in a Beyonce song lol

— Jeremiah (@lebontempkid) March 2, 2018