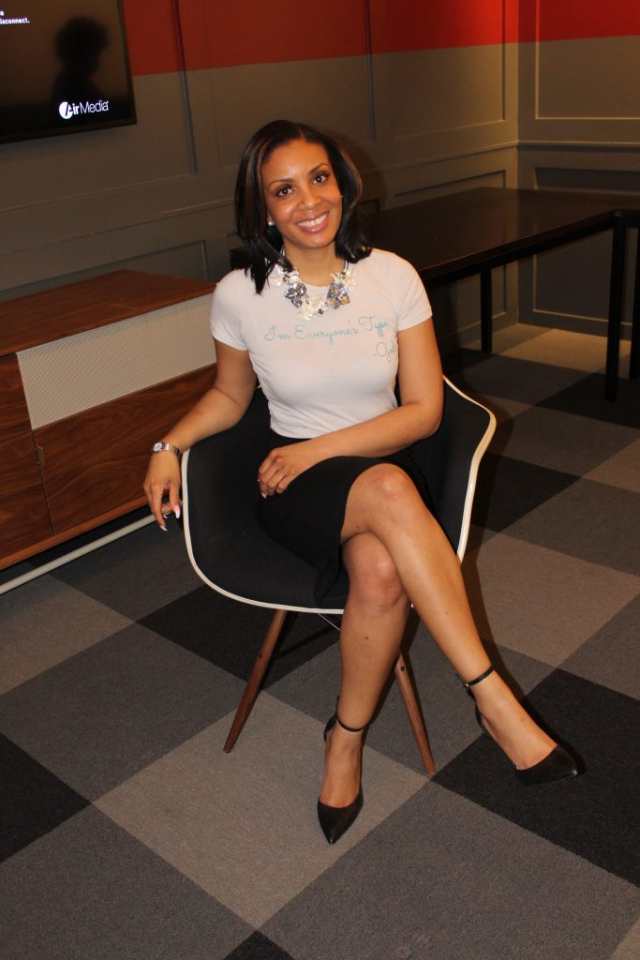 Kenyatta Scott is a published author, Chicago native and the founder and CEO of Let's Talk Incorporated. She also works with faith-based organizations where her platform is on celibacy as a form of self-care and discovering one's purpose. This brand is commonly known as The Sprinkle of Love.
Rolling out caught up with Scott to discuss her book I'm Everyone's Type.
What inspired you to write your book?
I was inspired to write I'm Everyone's Type by the adults who began reaching out (via DM or directly) to me for support with their choice to be celibate once they learned of my platform and master classes in support of celibacy. This book is for them. I think it is important for people to know that they are not alone when making this decision to be celibate.
What books have most impacted your life (or life as an author)?
The first book that most impacted my life that comes to mind when thinking of this current project is The Wait by Devon Franklin and Meagan Good
What book are you currently reading? Why this author?
John Bevere, The Bait of Satan. I consider it to be a spiritual guidebook that helps me to stay focused on my purpose and reminds me to protect my energy.
Is there anything you found particularly challenging about writing or coming up with a concept for your book?
I believe that my having patience with the process could be the most challenging thing. All of my writing projects stem from my faith, so I have to be patient in waiting for the right message to flow creatively through me and out onto the pages. Simply put, if it doesn't feel right in my spirit, I will not write nor publish it.
What advice would you give to other writers?
The advice I would give is for them to be patient with their process and stand by their truth that they believe their book represents.  I think that others can have opinions of your work in its formative stages so, sometimes, one has to really protect their work.  You have to be ok with saying no to those specific edits that you believe will remove some of the premise and message of your story. Again, stand by your truth.
Please provide three "good to know" fact about you. Be creative.
Hmm, now that is a good question. Let's see, three good to know, creative but honest facts about me are:
I love riding in/driving anything that goes fast. Cars, boats, you name it. I have my motorcycle license and get so tempted to go out on the open road, on a bike, on a warm summer day.  Being in warm weather and cruising relaxes me.
I am a true-to-form Aries. As much as I am God's girl, I am also a wild child. What that looks like is that I am goal oriented, driven, love to have fun, and can be what others refer to as brutally honest, all without a drop of malcontent in my heart and thoughts. I prefer to be as direct as I can.
I want to see us all win. I enjoy supporting others and doing whatever exists within my scope of service to help others who want to help themselves. I know we need to preserve our energy at times so we cannot always be as available or easily accessible. I believe that the desire to help, with a pure heart, is wherein the difference lies.
What is the mission you set out to accomplish with your voice in this book?
My mission is to paint a very realistic, attainable, and sustainable picture of celibacy: what it looks like on a day-to-day basis.  I hope to expose people to the very real concept of celibacy as a form of self-care and how it is all tied back to one's discovery of self and their overall purpose
Where would you travel to write your next book?
I love this question because I absolutely love to travel. I was blessed with the opportunity to travel to Maui, Hawaii, in January 2017 to write. I spent my days in paradise writing on black sand beaches, whale watching, and splashing in waterfalls. I believe traveling to be very cathartic and overall good for one's soul and spirit. I think that, if the opportunity were to present itself again, to visit a new place with the sole purpose being to create and write, I would love to travel to Barbados  I believe that warm, laid-back atmospheres overall are really conducive to my writing process and creative vibes.