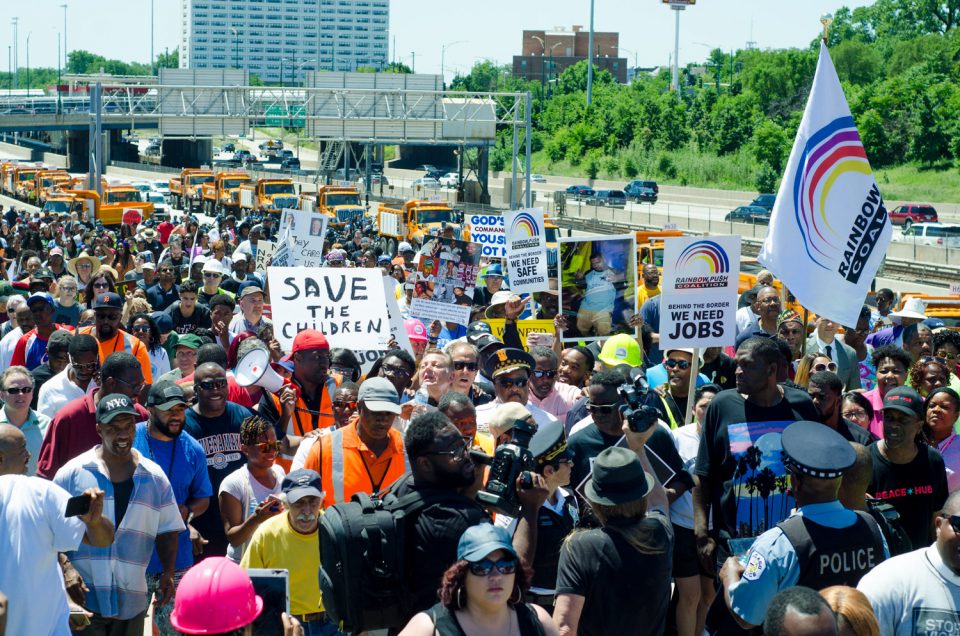 On July 7, 2018, Father Michael Pfleger and a few thousand of his supporters shut down a Chicago expressway known as the Dan Ryan in order to protest the gun violence and inadequate funding of schools and jobs for those in Black communities.
Father Pfleger is a White, Roman Catholic priest who has worked in the Black community for over 40 years focused on erasing the injustice the community constantly faces. This most recent protest was viewed by many as a waste of time. The ongoing questions are: Where does this march take us? What does it prove? And what will it accomplish?
Chicago has seen 52 fewer murders and 229 fewer shootings through the end of May, according to the Chicago Police. This has been the 15th consecutive month of declining gun violence. This isn't necessarily something to hang your hat on, but it is progress and it highlights why marches like this are important. 
"Today was the attention getter but now comes the action to follow up. Tell us what they are going to do to equal the playing field on the South and West Sides of Chicago like the North Side?" posed Pfleger.
We spoke with one of the marchers, H.L. Anderson, and asked why she thought this march was important to the Black community and how it will change things.
"The March is important because it highlights community concerns that relate to gun violence, and an overall lack of resources and disinvestment in communities of color, specifically Black communities that have a low social economic status. Many working class people felt it was a bit of an inconvenience because there are many people who work on Saturdays or need to shop for the week. Protests that are done in the community must be carefully considered as to not create more barriers for people," she said.
"The impact of a march or a series of marches will never be felt immediately. The residents must continue to have a strong vision and voice for their community with a strategic plan that can be supported by public and private dollars. Communities of color must lead their direction because each community area has different needs. This is why the residents must lead their vision and galvanize the others to impact change and move in power. Father
Pfleger
is great but we need more Black and Brown people to be the faces and leaders of their visions and plans where they live, and others may support it.
"For example, many parts of the Englewood community are doing a great job of creating vibrant, intergenerational programming and cooperatives that support community development, and much of it appears to be directed by the Black people. This is a great model and more community areas must own and implement their vision and strategic plans for economic development, arts and culture, farming, housing, employment, etc. This is a must. The March is cool, but at the end of the day, we need more solution-oriented action that promotes neighborhood stability with financial sustainability," added Anderson.
Check out a few pictures from the protest below.