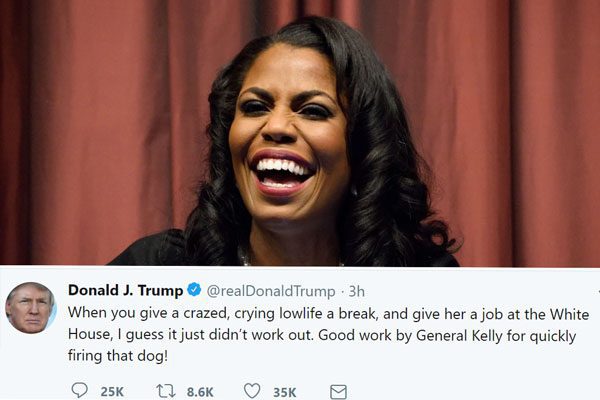 For most people in America, pissing off the most powerful man in the industrialized world is not a wise move. Especially a man as unbalanced as Donald Trump. But with the news of former White House Aide Omarosa Manigault-Newman's book deal and secret recording, Trump is absolutely livid.
He lost his cool earlier today and posted the following to Twitter:
"When you give a crazed, crying lowlife a break, and give her a job at the White House, I guess it just didn't work out. Good work by General Kelly for quickly firing that dog!"
Ouch. This is not the first time Trump has referred to a Black woman as a dog. During the NFL protest, he called the players sons of bitches. The president has definitely crossed the line in disrespecting Omarosa. Does Omarosa deserve the extremely personal nature of this attack? Definitely not. The Black community must object to the way Trump is handling Omarosa. It does not mean anyone has to agree with Omarosa or her way of doing business. But the fact of the matter is that Trump called Omarosa a dog, and it is obvious to any sane person that he was also calling her a bitch, one of the most insulting labels that could be directed at a Black women
It is unprecedented, immoral and undignified for the President of the United States to engage in such a heinous attack on an individual American. It will be interesting to see how women's rights groups react to Trump's horrible tweet.