Trina Braxton's ex-husband Gabe Solis dead at 43
Singer Trina Braxton's ex-husband Gabe Solis lost his battle with cancer on Thursday, Dec. 20, 2018. He was 43.
Solis passed away at his home in Lakeway, Texas, about an hour west of the capital city of Austin, and was surrounded by friends and family when he made his final transition, TMZ reported. No other official details have been released about his passing or about the type of cancer that claimed his life.
According to the entertainment publication, Solis wanted to fight his battle with cancer in private. And that's perhaps why news or his death caught many of his friends and family by surprise.
Solis had just made his final social media post on Dec. 8.
On Friday, Braxton, 44, apparently was mourning the loss of Solis with this cryptic Instagram post: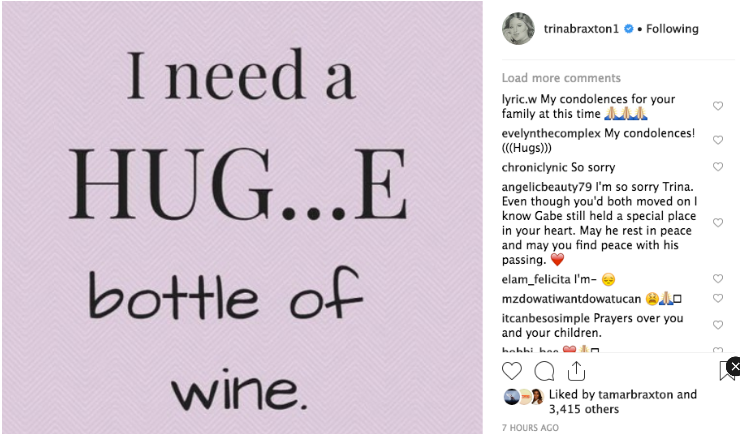 Braxton and Solis were married in 2003 and appeared together frequently on the "Braxton Family Values." They raised two sons together during their 12-year union.
Despite finalizing their divorce in 2015, Braxton and Solis finally addressed old issues from their marriage with life coach Iyanla Vanzant earlier in the year.
Braxton has since gotten engaged to another man, but she and Solis reportedly remained friends. And she gave the following heart-tugging remembrance to Solis on Instagram:
"On December 20, 2018, a chapter permanently closed for my sons and I. For over 16 years, Gabe Solis was an essential part of our lives. Like all families, there are good and bad moments that are endured, but those moments, good or bad still made us who we are in the present.
"Unfortunately, someone leaked the story before we could make everyone aware of his passing, and I apologize to those friends and family members for finding out through social outlets. I also apologize directly to the Solis Family. I do humbly ask for your prayers for our families, but my greatest request is that when you are posting comments, remember Gabe's passing is a loss for our family. He was a father to my boys, a son, brother, and friend to many and I would appreciate privacy and respect as we grieve his unexpected departure. @gabe_solis1234 I miss you, my dear friend."
Here is a YouTube clip below of the episode with Vanzant for those who aren't familiar with the late Solis.