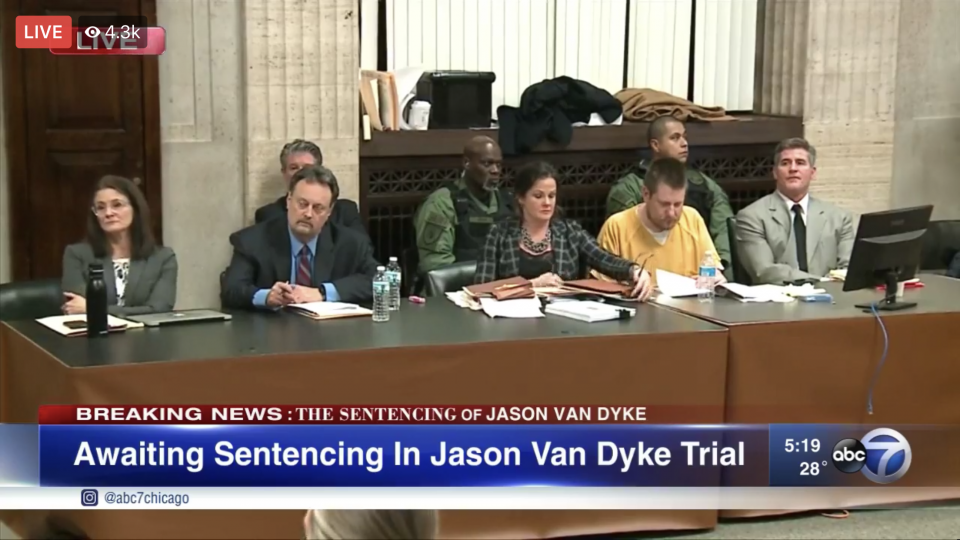 Jason Van Dyke has been sentenced to six years and nine months with the possibility of being released in three years for the murder of Laquan McDonald.
McDonald was killed by former Chicago police officer Jason Van Dyke on Oct. 20, 2014. Footage of the murder was held under wraps for a year and was released in November of 2015 because of a lawsuit against the Chicago Police Department.
Once the video was released, it became yet another example of a Black man dying at the hands of law enforcement and added fuel to the Black Lives Matter movement.
Van Dyke was charged with the murder in November of 2015. He was indicted in December of the following year on six counts of first-degree murder and one of official misconduct.
In October 2018, Van Dyke was found guilty of second-degree murder and 16 counts of aggravated battery.
On Thursday, Jan. 17, 2019, three Chicago officers were acquitted for covering up McDonald's killing.
The verdict announced Friday, Jan. 18, in Van Dykes' trial finally closes the book on an almost five-year ordeal that has divided the city and has been used as political fodder during elections.
We spoke with activist Ja'Mal Green and asked him for his thoughts on the verdict.
"I'm disgusted with our justice system. After years of hard work to shape this city and achieving a guilty verdict on Van Dyke, he's going to be able to see his family again. Laquan will not! The funny thing is his daughter is the age Laquan was when he killed him. If someone shot her 16 times they would never see the light of day. Our justice system does not value young Black males," he said.
Charlene Caruthers, the founding national director of BYP100 who helped lead the charge in many of the demonstrations against police brutality, shared her thoughts on Twitter.
81 months = 6 years and some change.

— Charlene A. Carruthers (@CharleneCac) January 18, 2019
He won't serve it all.

I'm happy that this part of the process is over with for Laquans family and community.

The system will never give us justice. It isn't where I give my hope.

— Charlene A. Carruthers (@CharleneCac) January 18, 2019
Van Dyke will have a whole life ahead to live in three years or so. What will he do with it?

— Charlene A. Carruthers (@CharleneCac) January 18, 2019