Rap star Latto apparently confirms that she is in a full-blown relationship with a fellow rap star, based on the tattoo that she had strategically placed on her body.
Someone captured on camera the red-inked tattoo of 21 Savage's government name, Shéyaa, behind her ear, according to The Shade Room. 
The London-born rapper's full name is Shéyaa Bin Abraham-Joseph.
Rumors have been swirling for the past three years that the two have been romantically involved. But Latto repeatedly and adamantly denied it.
The insinuations heated back up the following year when Savage posted a photo of Latto sitting on a couch with a lapdog and the caption "no make-up." He quickly deleted the photo, however.
Last month, Savage also denied that he was in a relationship with a celebrity during a visit to the social media app Clubhouse.
Recently, Latto told Atlanta's Hot 107.9 radio station why she and her man are moving stealthily. 
"This is gonna sound so cliche, but it's the truth. Everything about my life is to be picked apart by social media," she said. 
"I gotta hear everybody's two cents and opinions on something that don't got nothing to do with them. I'm in a real relationship, not like PR stunts, so I just want to protect it. That's all."
One recent example of Latto being publicly scrutinized came when a fan tried to put Latto on blast for wearing the same pair of thong panties in two different photo shoots, which created a sizable stir.
If Latto and Savage are a couple, they have been very strategic in their moves. There are no photos circulating social media with the two of the rappers together with the exception of the pair promoting their songs "Pull Up" and "Wheelie."
Latto added that she is in a relationship with a man who "pays all of my bills," which she believes is the way things should go down.
Some fans, understanding that Latto is zealously guarding the sanctity of her relationship – whether it is with Savage or someone else – are sympathetic as to why she is moving the way she is.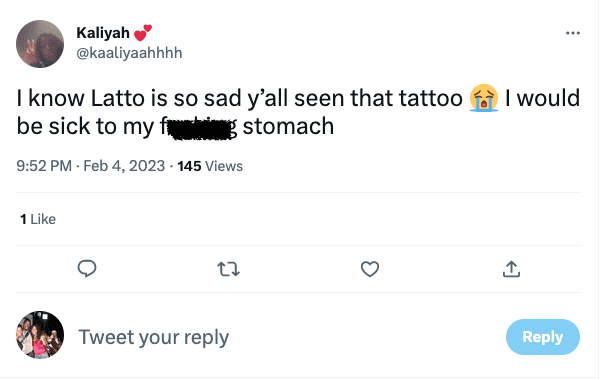 I gotta give it to Latto and 21 tho like there hasn't been one picture of them together that confirms that they're dating besides work stuff 😭😭 this tattoo definitely the only evidence that everyone needed to confirm it

— Tina Bobina Ho. (@Queenofallerass) February 4, 2023